Understand your Genetic Makeup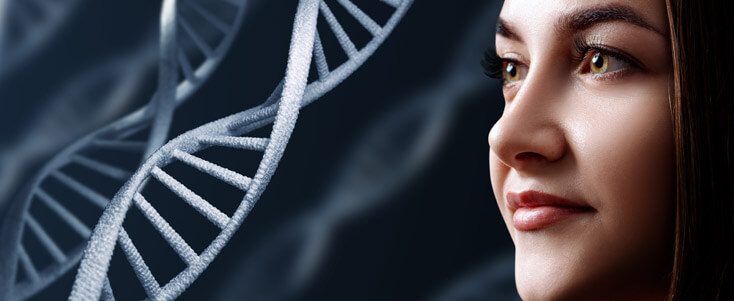 Understand your Genetic Factors
Cells comprises of DNA - Deoxyribonucleic Acid, which is the basic functional unit of humans. Genes are the reason why each individual is unique. DNA is a double helical structure with nucleotide bases - Adenine, Thymine, Guanine and Cytosine in about 3 million numbers. Genetic factors and their expression regulate all the functions of body like metabolic activities; determine physical characteristics of individual etc. A person inherits a complete set of genes from each parent, as well as cultural and socioeconomic values from one's family. Inherited genetic variation within families clearly contributes both directly and indirectly to the pathogenesis of disease.
A Genetic disorder is a condition caused by a change or mutation in part or whole of DNA sequence than normal sequence it can occur in a single gene or multiple genes. Some genetic mutations are inherited from the parents and are present in an individual at birth; like Sickle Cell Disease, Thalassemia, Cystic Fibrosis, etc. Some disease occurs when several genetic mutation interact with each other - or with the environment - to increase susceptibility to diseases. For example diseases like Type-2 Diabetes, Coronary Artery Disease, Obesity, Hypothyroidism, Stroke etc.
Genetic testing is a type of medical test that identifies genetic disorder or any changes in genes to screen or confirm any genetic condition and help determine a person's chance of developing or passing on a genetic disorder. Some genetic tests are used to screen healthy individual to check predisposition to certain genetic condition. These tests can be taken by any healthy individual to check their genetic risk for disease also lifestyle factor like nutrition and fitness based on the variation in their DNA.
DNAwise is personalized genetic testing that decodes your DNA to understand your genetic predisposition or risk for disease, information on important traits related to health and fitness. DNAwise guides you to be more proactive about health, physical fitness and personalize your health checkups. DNAwise provides personalized recommendation for nutrition and fitness to choose correct food sources and exercise type to stay healthy lifelong.
For more information on DNAwise or DNA Test Kit or genetic testing package, fill the inquiry form.
Are you looking to modify your lifestyle and habits to improve the quality of your life? Answer simple questions related to your Immunity, Fitness, Nutrition, Health and Habits check your health assessment.
View More