Is Obesity Connected with Genetics?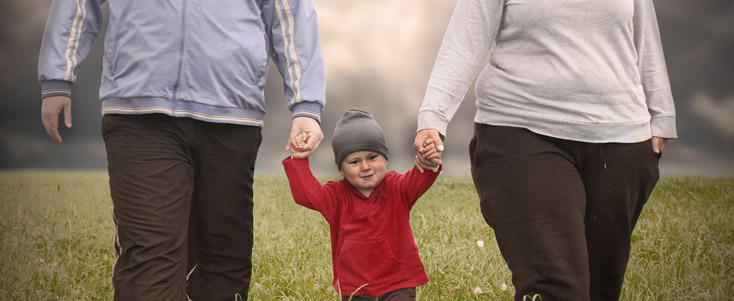 Obesity and Genetics Connection?
Overweight and obesity are major growing health concerns worldwide. Gaining excessive weight is not a physical ignorance to one's health but it is actually a medical condition. Obesity is excessive fat accumulation in body that results in serious medical complications like Metabolic Syndrome, Type 2 Diabetes, Heart disease, Arthritis, High blood pressure, cancers and sleep disorders. Once considered a problem only in high income countries, overweight and obesity are now dramatically on the rise in low- and middle-income countries, particularly in urban settings.
Overweight and obesity in adults is measured by Body Mass Index (BMI) - a person's weight divided by square of height in cm. If BMI over 24.5 are overweight; about 30 and above are obese. The main cause of obesity at individual level is excessive food energy intake and lack of physical activity. In few cases obesity is caused because of genes, endocrine disorders or mental illness. A healthy diet that contains plenty of fresh food, together with regular exercise, will reduce the risk of obesity in most people.
Role of Genes in Obesity
Many factors play a role in the development of obesity. Genes play a very crucial role in regulation of metabolism of individual. Metabolism and absorption of fat, carbohydrates, protein along with sensitivity to insulin in humans is controlled by one or more genetic factors. Mutation in any of this gene affects the weight quotient of individual making him/her gain calories at rapid rate, therefore increasing weight. Certain human behavior like craving for fries or cake, satiety for meal, emotional eating etc. are controlled by hormone produced by genes
A faulty gene called the fat-mass and obesity-associated gene (FTO) is responsible for some cases of obesity. This gene regulates release of growth hormones and how the body accumulates fat, among other functions. Genetic traits can increase the risk in some people.
Genetic research has come up with certain DNA test that can check whether you have a faulty weight gain gene or not. Genetic test for predisposition to these genes can save you from becoming victim of obesity. Genetic testing reports can actually reveal all the basic of your foo metabolism like effect of carbohydrates and fats on your body, effects of exercise in weight loss and other micro nutrients.
DNAwise is a complete health reformation package for you, for more details about DNAwise DNA test kit or Genetic testing please fill up the inquiry form below.