Importance of DNA Testing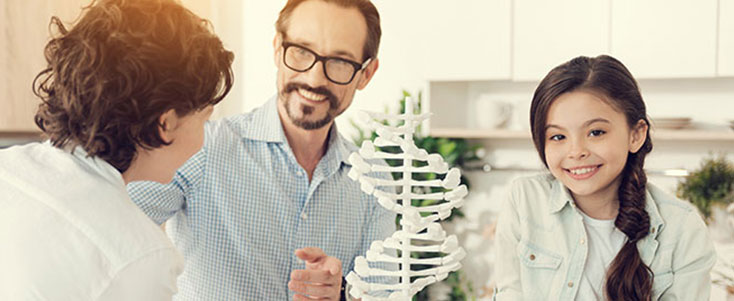 DNA is the element in human cells that carry genetic instructions that are used for growth, functioning, and reproduction of living organisms. The examination of the DNA or genes is known as genetic testing. This procedure may also be referred to as DNA testing. Abnormal changes in the genetic structure may manifest in various diseases.
Genetic or DNA testing can provide very important information regarding your health and tendency to incur diseases. A number of advanced techniques are available for fast and reliable DNA testing including genotyping and sequencing. Your DNA narrates the complete story of your health, nutrition and fitness quotient. All you have to do is call for DNA test kit and give a test sample for DNA testing.
Know your DNA!!
Genetic test report + Lifestyle changes = Healthy life
Benefits Of DNA Testing
A DNA test offers various benefits listed below:
1.

Understanding your genetic composition:

Every individual has a different set of genes which make them unique. Knowing about the traits of your specific genes gives you an idea about your health status. These diseases run in families, so a DNA test can reveal the risk of you or any of your family members to have the same disease.

2.

Helps to achieve your fitness goals:

When you are aware of your genetic makeup, you can plan your diet and exercise considering your potentials and limitations. Genetic testing will give you an idea about your likelihood of fatigue or injury, your tendency to regain weight, your power and much more in detail. This helps you personalize and maintain your fitness plans.

3.

Identify predisposition to various diseases:

The genetic testing is a unique and very beneficial tool that provides a detailed report of predisposition for health, fitness, and nutrition that helps in personalizing lifestyle and health checkups. For example, if test results show an increased risk of cancer, you can plan to take preventive health checkups to keep risk at a minimum.
The DNAwise DNA Test Kit is a simple saliva-based test that analyzes your DNA. DNA-wise provides diverse genetic testing reports of health, fitness, and nutrition using the latest technology and international quality standards. It is basically your reference guide for longevity and wellness. The genetic testing helps personalize annual health checkup.
Empower yourself with good health. Go for genetic testing right away.