Is Fluvoxamine the Drug For Your OCD?
Some things in life are not fully understood. The cause is unknown, but the problem is real! Obsessive Compulsive Disorder (OCD) is one such disorder that does not have a known cause. A mental disorder OCD is a pattern of unwanted and repeated thoughts or feelings, ideas or sensations, and abnormal behaviours.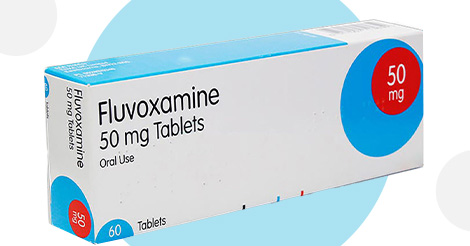 A person with OCD has the itch that drives them to do particular things again and again as a compulsion. It is an obsession and cannot go away even if ignored. This disorder causes great distress and anxiety to the patient. An uncontrollable disorder, OCD is chronic and long-lasting. OCD affects the patient in multiple ways. It disrupts their professional life and personal relationships. Continuous fear and anxiety are also mental disorders. Social Anxiety Disorder or also known as Social Phobia is a mental illness, far different from shyness. This condition causes stress to the patient. It is a persistent and irrational fear of situations that may involve scrutiny or judgment by others or social interaction, such as at parties and other social events. Life with such mental disorders can be difficult. The doctors help manage the condition with certain medications and drugs. Fluvoxamine can be one such drug that the doctor may prescribe.
What is Fluvoxamine?
Fluvoxamine is in a class of antidepressants called selective serotonin reuptake inhibitors (SSRIs). The mechanism of action of Fluvoxamine is to increase the amount of serotonin, a natural substance in the brain. Serotonin helps maintain mental balance and treats obsessive-compulsive disorder and anxiety disorder and also social anxiety disorder.
How to take Fluvoxamine?
· Always take Fluvoxamine as instructed by your doctor and with the correct dose as prescribed by your doctor.
· Never take more or less than recommended dose.
· Never suddenly stop taking the medicine without the instructions of your doctor.
· A sudden stop could lead to withdrawal syndrome like mood changes, irritability, numbness, tingling, and even agitation.
· It is also possible that the drug will take some time to show its actionability.
Dosage:
For oral dosage form (extended-release capsules):
· For treatment of obsessive-compulsive disorder: In adults, the initial dose is 100 milligrams (mg) once a day at bedtime. However, the maximum dose is not more than 300 mg per day.
· In children, the dosage and the use are determined by the doctor.
For oral dosage form (tablets):
· In adults, the initial dose is 50 milligrams (mg) once a day at bedtime. However, the maximum dose is not more than 300 mg per day. In case of a daily dose of more than 100 mg, your doctor can split and divide the single dose into two doses.
· In children 8 to 17 years of age, the initial dose is 25 mg once a day at bedtime. Though, the maximum dose is usually not more than 200 mg or 300 mg per day. In case of a daily dose higher than 50 mg, your doctor can split and divide the single dose into two doses.
· In children younger than 8 years of age, the doctor decides the dose and the use.
Some precautions before taking Fluvoxamine
Before starting the Fluvoxamine treatment, it is crucial to discuss all your allergies and medical history with your doctor. It is a good idea to make sure that the medicine you take is safe for you and would give the desired results.
It is advised to inform your doctor
· If you are allergic to tricyclic antidepressants, any SSRIs, or any other kind of drug,
· If you were previously taking Monoamine oxidase inhibitors
· If you consume alcohol, tobacco or you are a smoker
· If you are pregnant
· If have any kind of cardiac issue or had any episode of Myocardial Infarction
· If you have abnormal blood pressure
· If you have any bleeding problems
· A problem with seizures
· Liver or kidney disease
In case you feel any problem in your eyes after taking the drug, consult with your doctor and go for an eye examination.
Fluvoxamine may make you drowsy, hence, it is advised to not perform any activities that need concentration after taking Fluvoxamine.
How is Fluvoxamine available?
Fluvoxamine is available as an oral capsule, (extended-release) in strengths, of 100mg, and 150mg and, as an oral tablet of strengths of 25mg, 50mg, and 100mg.
It is available in the market under many brand names.
Popular brand names for Fluvoxamine
· Fluvoxin (Sun Pharmaceutical Industries Ltd)
· Uvox (Abbott)
· Frext (Intas Pharmaceuticals Ltd)
· Fluvator (Torrent Pharmaceuticals Ltd)
· Voxidep (Icon Life Sciences)
· Voxamin (Micro Labs Ltd)
· Sorest (Strides shasun Ltd)
· Voxinix (Arinna Lifescience Pvt Ltd)
· Fluvaris (Crescent Therapeutics Ltd)
· Lofebril (Dycine Pharmaceuticals Ltd)
Side Effects
Like most medicines, Fluvoxamine can have certain side effects.
Common Side Effects of Fluvoxamine
· Drowsiness
· Dry mouth
· Nausea, vomiting
· Diarrhoea, stomach pain, constipation, indigestion
· Change in taste
· Stuffy nose
· Decreased appetite, weight loss
· Sweating
· Difficulty falling asleep or staying asleep
· Nervousness
· Sexual problems in males, like a decreased sex drive, problems with an erection
· Sexual problems in females like a decreased sex drive, or problems associated with the orgasm
Some patients may show some severe side effects of the same medicine. Sometimes, if the patient modifies the dosage or consumes it for longer than advised by the doctor, there can be some serious side.
Severe Side Effects of Fluvoxamine
· Fever, sweating,
· Confusion, hallucinations, or loss of coordination
· Twitching, or agitation
· Fast or irregular heartbeat
· Severe muscle stiffness
· Nausea, vomiting, or diarrhoea
· Pain, burning, numbness, or tingling in the hands or feet
· Headache, dizziness
· difficulty concentrating, memory problems, or confusion
· Weakness, unsteadiness
· Rash, hives
· Swelling of body parts like face or lips
· Slowed or difficult breathing
· Seizures
· Unusual bleeding
· Bruising
· Blood vomit
· Red blood or black stools
If you experience any of these symptoms, please seek emergency medical advice and contact your doctor immediately.
How to find out if Fluvoxamine is the drug for you?
Today it is a blessing to have the MEDNAwise pharmacogenetic test from Indus Health Plus. A revolution in the field of personalized medicine. MEDNAwise is a test that tells you the most effective medicine for you. As you must know, genes are the deciding factors that influence the response of your body toward different medicines.
MEDNAwise analyses these genes and reports your body's response to 70+ drugs across medical specialties. It tells you the most effective medicine for you along with the adverse effects your body may experience. Mental illnesses require the correct medicine in the correct doses and the MEDNAwise test can help to know which medicine would give the best and apt results. It can surely tell you if Fluvoxamine can be the best medicine for you.
MEDNAwise test has made decision-making easy for doctors, they can decide the most effective medicine suitable to your unique self. The test helps improve patient outcomes, cuts short the trial period, and has a low score on the adverse effects. It has many benefits at an affordable cost. It is an easy saliva swab test, where you can take the sample anytime, anywhere, and send it for testing. Post results, the genetic counsellors help you understand the results and recommendations.
The best part of the MEDNAwise test is that the results can be reused for life whenever you need medical care and attention. With such beneficial tests in the market, do not make any excuses and make health your top priority. Sign up for the MEDNAwise pharmacogenetic test today!
Why Choose Indus Health Plus?