Would Atomoxetine help your child with ADHD?
Is your child finding it difficult to concentrate and complete a task? Is the child hyperactive and unable to focus? Some children score poorly and achieve low results due to problems with attention and focus. Most of the time, parents scold the child, and that is the end of it. But before dismissing it, you need to be extra sure that maybe what the child is experiencing is not normal and needs help.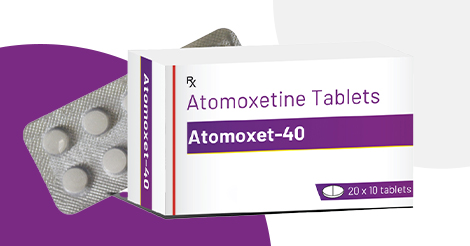 Journaling the symptoms can be a way to help the child. Take the child in confidence and try to understand the issue. Your child could suffer from attention deficit hyperactivity disorder (ADHD). It is a disorder, characterized by inattention, hyperactivity, and impulsivity in excess. A neurodevelopmental disorder, ADHD is usually diagnosed in childhood and often lasts into adulthood. Symptoms may include the inability to pay attention, impulsivity, and hyperactivity in children, teens, and adults.
The causes of ADHD are not known, but they can be hereditary. It seems to run in families, and the genes pass on to the next generation. Diagnosis is the first step in the treatment of ADHD. Diagnosis for ADHD is well validated in medical science. Once the diagnosis is clear, the doctor can establish a treatment. Treatment may consist of behavioral therapy, training of parents, and medications. Doctors can start with drugs like Atomoxetine for treatment.
What is Atomoxetine?
Atomoxetine is an approved medicine to treat ADHD in children and adults. It is a cognitive enhancer and a non-stimulant drug. It belongs to the selective norepinephrine reuptake inhibitors class of medicines. It increases the levels of dopamine and norepinephrine, a natural substance in the brain that is responsible for controlling behaviour. It is beneficial to increase concentration, the ability to focus, pay attention, and, stop fidgeting.
How is Atomoxetin available?
Atomoxetine comes in capsule form and is also available as a sachet.
It is a prescription-only drug and is available at chemists under brand names like
• Tomoxetine, Axepta (Intas Pharmaceuticals Ltd)
• Attentrol (Sun Pharmaceutical Industries Ltd)
• Attera (Icon Life Sciences)
• Atonext (MSN Laboratories)
• Starkid (Torrent Pharmaceuticals Ltd)
• Atexitine (Aspen Pharmaceuticals)
• Tomoxetin (Torrent Pharmaceuticals Ltd)
How to take Atomoxetine?
• Atomoxetine is to be taken by mouth once or twice a day as recommended by your doctor.
• It is beneficial to take it at the same time every day.
• You can have it with food or if suggested by the doctor, even without a meal.
• Make sure you take it early in the day to avoid any sleep-related problems.
• Take it as a whole, without crushing or breaking the medicine.

Dosage
For oral dosage form (capsules)
For attention-deficit hyperactivity disorder (ADHD)
• For adults and children 6 years of age and older weighing over 70 kilograms (kg), the initial dose would be a single dose of 40 milligrams (mg) in a day. The dose is gradually increased after a minimum of three days. For a day, it is increased to a dose of 80 mg as a single dose in the morning or divided into two doses to be taken in the morning and then again in the late afternoon. Your doctor may adjust your dose as needed. The dose is usually not more than 100 mg per day.
• For children 6 years of age and older weighing less than 70 kilograms (kg, the dose is decided by the doctor based on the body weight. The initial dose could be once a day 0.5 milligram (mg) per kilogram (kg) body weight. The dose is increased after a minimum of three days. It can be increased to a total daily dose of 1.2 mg/kg as a single dose in the morning or divided into 2 doses to be taken in the morning and then again in the late afternoon. The dose does not exceed more than 1.4 mg/kg per day.
• For children younger than 6 years of age, the dose is decided by your doctor, considering various factors.
Some precautions
• Sometimes taking two or more drugs together is not safe. Either there would be some adverse reaction or the drugs would not work effectively. It is essential to discuss this with your doctor.
• Make sure you inform your doctor about your medical history and the family's medical history.
• Tell the doctor about your allergies. Discuss the risks associated with Atomoxetine and the benefits it offers.
• Let the doctor know if you are using any Medicines, especially MAO inhibitors. There could be drug-drug interactions.
• Atomoxetine does not have controlled studies in humans for pregnancy and hence it is best to let your doctor know if you are breastfeeding or pregnant.
• Discuss your daily dietary intake and routine with your doctor. You need to avoid alcohol when taking atomoxetine.
• Remember to keep the medicine out of reach of children, and pets.
• Any expired or unused medicine should be disposed of with due safety measures.
• Remember a long-time use of Atomoxetine can affect your child's growth rate, weight, and final height.

Side effects of Atomoxetine
All drugs including Atomoxetine have side effects along with the desired medical effects. Side effects manifest in different ways in different individuals. Most of these effects get better with time and do not need any special medical attention. You can discuss the side effects with your doctor during your appointments.
Common side effects of Atomoxetine may include
• Digestive upset
• Dizziness
• Tiredness
• Headache
• Mood swings
• Decreased sex drive
• Muscular pain
• Difficulty in passing urine
• A tingling feeling in hands, legs, feet, or arms.
• Painful periods or irregular menses
There can be some severe or fatal side effects of Atomoxetine, some of which are listed below:
• Hypertension
• Liver disease
• Unusually fast or irregular heartbeat
• Fainting
• Urine problems
Overdose of Atomoxetine can cause symptoms like abnormal behaviour, sleepiness, stomach problems, fast heartbeat, and wide pupils.
If you experience any of the side effects discuss them with your doctor. Most common side effects do not need medical attention and tend to get better with time. If you experience any severe side effects or you accidentally overdose, seek immediate emergency medical attention.
Is Atomoxetine the medicine for you?
The MEDNAwise pharmacogenetic test provides the answer to the question. Genes influence the metabolism of the drug you take. Each individual reacts differently to the same drug. MEDNAwise studies these genes and tells you which drug would be the most effective for you with the least adverse effects. MEDNAwise test eliminates the need for a trial-and-error method to decide the correct course of therapy and treatment. The test tells you, your body's specific genetic response to 70+ drugs across varied medical specialties. Equipped, with this information it has become very easy to get the best-suited drug for your unique self. It will help you know if Atomoxetine is effective for you.
MEDNAwise also reduces therapeutic failure, a no-response situation, and any risk of adverse drug reactions. It is a beneficial tool for all your future medical needs. It would serve as a ready reckoner for the doctor to decide the best course of treatment for you. MEDNAwise is an easy and simple test. A quick saliva test, which you can do from your home. Detailed results are sent to you. The counsellors are available for a free consultation on the test results. They would guide you with future diet plans and further health check-ups.
Make health your top priority. Good health grants your peace of mind. Call us at Indus Health Plus and sign up for MEDNAwise pharmacogenetic testing today.

Why Choose Indus Health Plus?