Will Lansoprazole give you the desired results?
Will Lansoprazole give you the desired results?
Do you feel bloated and keep experiencing bouts of acidity? Although these are fairly common body reactions after a heavy meal, sometimes they could be signs of gastroesophageal reflux disease, also known as GERD. Gastroesophageal reflux disease is a chronic digestive condition that is a common disorder and can be treated with medical help. So, if you experience heartburn and acid-related problems often; you should consult a doctor. The doctors prescribe proton pump inhibitors like Lansoprazole to treat acid-related stomach disorders.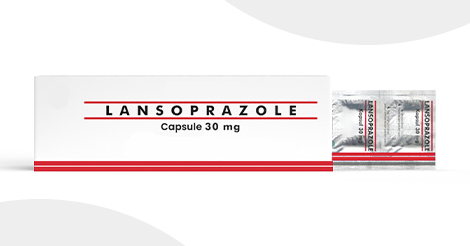 What is Lansoprazole?
Lansoprazole is a drug that reduces the amount of acid produced in your stomach. It is a proton pump inhibitor used to treat symptoms of excessive acid production in the stomach, frequent heartburn, and gastroesophageal reflux disease (GERD). It does not relieve you immediately but takes one to four days to have full effect.
When is Lansoprazole prescribed?
Lansoprazole decreases the amount of acid produced in the stomach. It is an over-the-counter drug, or the doctor can specifically prescribe it after evaluating your medical condition.
Lansoprazole is beneficial to treat and prevent
• Stomach and intestinal ulcers
• Erosive esophagitis (Damage to the esophagus from stomach acid)
• Disorders involving excessive stomach acid such as Zollinger-Ellison syndrome
• Peptic ulcer disease
• Acid-related indigestion and heartburn.
How is Lansoprazole taken?
• Lansoprazole should be taken as prescribed by the doctor. The dosage depends on your medical condition and how you respond to the medicine.
• You must take it as prescribed, even if your symptoms seem to lessen or disappear.
• You can take Lansoprazole once a day, first thing in the morning.
• If you take Lansoprazole twice a day, take one dose in the morning and one dose in the evening. Lansoprazole shows best results if you take it at least half an hour before a meal or food. That is because food inhibits Lansoprazole from getting into your system.
Dosage for Lansoprazole
• For oral dosage forms (capsules or orally disintegrating tablets):
• For the treatment of duodenal ulcers: Adults need to take 15 milligrams (mg) once a day before a meal. Your doctor will adjust your dose as needed.
• For treatment of duodenal ulcers with H. pylori infection: Adults are advised a dose of 30 milligrams (mg) before meals twice or thrice a day. The dose is usually taken together with amoxicillin or clarithromycin plus amoxicillin.
• To treat gastroesophageal reflux disease (GERD): Adults and children 12 years of age and older are advised a dose of 15 milligrams (mg) once a day before a meal.
• In all cases your doctor can adjust your dose as needed.
How is Lansoprazole available?
Lansoprazole is available in different strengths. It is found in 15 milligrams (mg), 30 milligrams (mg) and 60 milligrams (mg) tablet and capsule form.
Lansoprazole is sold under the following brand names:
• Lanzol (Cipla Ltd)
• LAN (Intas Pharmaceuticals Ltd)
• Lanzoprax (Macleods Pharmaceuticals Pvt Ltd)
• Lanfil (Fourrts India Laboratories Pvt Ltd)
• Lonido (Shine Pharmaceuticals Ltd)
• Lanzopen (Morepen Laboratories Ltd)
• Lesozap (Alde Medi Impex Ltd)
Some precautions to be taken before starting with Lansoprazole
Whenever you take a drug, it is vital to discuss the advantages and disadvantages of the drug with the doctor. All medicines interact with food, herbs, and other medications you consume; hence the doctor must know all your habits and medications.
• Inform your doctor about any medical surgeries or problems you may have had in the past.
• Let your doctor know if you are hypersensitive to proton pump inhibitors.
• If you have severe liver problems, discuss them with your doctor.
• Tell your doctor if you are taking medicines for HIV, or have had an allergic reaction to similar medicines in the past.
• Inform if you suffer from bone loss (osteoporosis).
• If you are a pregnant or breastfeeding women
• Swallow the capsule or tablet as a whole, and never chew or crush it.
• Never alter the doses on your own. Always consult your doctor before you change the dosage.
Side effects of Lansoprazole
Lansoprazole does have some adverse effects. Most of the time, these effects are mild and tend to get better with time. If you experience an unusual reaction, speak to your doctor immediately.
Some common side effects are listed below
• Nausea
• Headache
• Diarrhoea, Abdominal pain
• Constipation
• Dizziness
Some severe side effects can be as follows, get medical help right away if you have
• Dry mouth
• Insomnia
• Drowsiness
• A Blurred vision
• Pruritus
• Excessive sweating
• Fever or flu
• Heartburn with light-headedness/sweating/dizziness,
• Chest/jaw/arm/shoulder pain (Especially with shortness of breath, unusual sweating),
• Unexplained weight loss.
Some allergic reactions may include rash or swelling of body parts.
Whenever you feel a reaction is extreme or very severe consult your doctor.
How to know if Lansoprazole suits you?
The drugs you take must give the desired results. It is only then we can say that the drug is effective. Taking a drug that is not effective, may harm you with unwanted side effects and increase the time for a cure. Usually, doctors prescribe a drug, and according to the response from the patient, they alter the dosage or change the drug entirely. Now, it is time to unburden yourself from the traditional trial and error method. Each individual is gifted with a unique set of genes, these genes determine your response to many things, including the medicines you take. Pharmacogenetic testing is the new method of targeted therapy where personalized treatment is possible. It tells you which treatment would be the most effective and give maximum benefits.
The Indus Health Plus MEDNAwise pharmacogenetic test eliminates therapeutic failure or no response. It also reduces the risk of adverse drug reactions. Each individual reacts differently to the same drug. While some people may benefit, some may not show any improvement. To find the most effective drug especially suited to your unique self, get the MEDNAwise pharmacogenetic testing done. With the MEDNAwise test, the doctors immediately know which drugs are best suited for you. This test can predict your genetic response to 70+ drugs used in different medical specialties, including Lansoprazole. You can take a MEDNAwise test to see if Lansoprazole is the most effective antiulcer medicine meant for you.
The era of personalized healthcare has arrived, make the most of it. A simple saliva swab test MEDNAwise is easy to take. The results are comprehensive and help the doctor give the most effective drug to you. The ever-supportive and helpful staff at Indus Health Plus is always eager to help you through the process. The genetic counsellors help you decide the diet plans and future health courses based on the results.
Good health is equal to peace of mind. With the MEDNAwise results, it has become very easy to get the best-suited drug for your unique self. It is never too late to make health your top priority. Take charge and use new technologies and methods. MEDNAwise test is your pathway to good health. To know your body better, sign up for MEDNAwise genetic testing today!
Why Choose Indus Health Plus?