Is Pantoprazole the Right Drug For You? 
Have you frequently experienced a lump in the throat and difficulty swallowing? Do you sometimes feel pain in the chest or abdomen? You could be having a condition called Gastroesophageal reflux disease (GERD), also known as Hyperacidity. It is a condition in which the acid in the stomach repeatedly flows back into the esophagus. This backwash (acid reflux) irritates the lining of the esophagus, causing a burning sensation in the chest (heartburn), usually after eating, which might be worse at night or while lying down.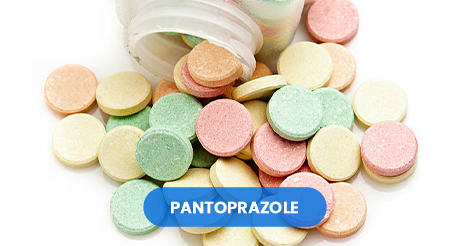 Some symptoms of GERD include
Regurgitation of food or sour liquid
Chest pain or upper abdominal pain
having difficulty swallowing
the sensation of a lump in the throat
If you experience any of these symptoms, consult the doctor for better understanding. The doctor may prescribe you medicines to prevent this. Pantoprazole is one of the drugs that, could be prescribed by the doctor.
What is Pantoprazole?
Pantoprazole is in a class of drugs called the proton-pump inhibitors. It reduces the amount of acid made in the stomach. Pantoprazole is used to treat damage from GERD, it helps to prevent further damage to the esophagus and helps it heal. It helps treat erosive esophagitis. Pantoprazole has proved to be beneficial in treating conditions like the Zollinger-Ellison syndrome. In this syndrome, the stomach produces too much acid. Pantoprazole treats and prevents the return of ulcers caused by particular bacteria in adults.
When is Pantoprazole prescribed?
Pantoprazole is prescribed to treat stomach ulcers and excess acid issues in the stomach. It is beneficial in the erosion and ulceration of the esophagus. The doctor usually prescribes Pantoprazole to provide relief for the following conditions
Heartburn symptoms
Abdominal pain
Excess stomach acid
Erosive esophagitis
Stomach ulcers
Duodenal ulcer
Gastric ulcer
Peptic ulcers
GERD (Gastroesophageal reflux disease)
How to take Pantoprazole?
Pantoprazole should only be taken as prescribed by a doctor.
The dosage varies for each patient. Age, medical condition, and symptoms are the deciding factors for the dosage.
The usual dose is 40 milligrams (mg) once or twice a day for 4 to 8 weeks.
The usual dose is 40 milligrams (mg) once or twice a day for 4 to 8 weeks.
Pantoprazole comes as a delayed-release (releases the medication in the intestine to prevent break-down of the medication by stomach acids) tablet and as delayed-release granules to be taken orally, by mouth.
The packets of delayed-release granules must be mixed with applesauce or apple juice and taken by mouth or given through a feeding tube and taken 30 minutes before the meal.
The delayed-release tablets are usually taken with or without food, depending on the advice of the doctor.
Swallow the medicine as a whole. Never crush or chew it.
Do not alter the doses without consulting your doctor.
Complete the entire course of medicine as suggested by the doctor.
Missed a dose Take it when you remember, or skip it if it is time for the next dose.
How is Pantoprazole available in the market?
It is available in tablet and capsule form. It is also available as delayed-release tablets.
Some common brand names for Pantoprazole are
Aciban by Cadila Pharmaceuticals Ltd.
PAN by Alkem Laboratories Ltd.
Panpure by Emcure Pharmaceuticals Ltd.
Pansec by Cipla Limited,
Pantazol by United Biotech Pvt. Ltd.
Precautions to be exercised before taking Pantoprazole
All drugs need to be taken with caution. The doctor needs to know your medical history before starting the therapy. You can also inform about your diet and the supplements or other drugs you consume. Pantoprazole should not be used if you are allergic to it. It is not recommended for use in children below five years of age. Inform your doctor if you have liver and bone problems. Pantoprazole may decrease the magnesium level in your body which could increase the risk of bone fracture, discuss this with the doctor.
Inform if you have low levels of magnesium.
Inform if you have Lupus.
Inform your doctor if you are pregnant.
Also, inform if you are breastfeeding.
Side effects of Pantoprazole
Pantoprazole has a few side effects. Most of these do not require medical attention. Get help from your doctor if you experience some extreme reactions to the drug.
Some allergic reactions may include hives and swelling of body parts, or you may experience difficulty breathing. In all these cases seek medical help.
Some common side effects are
Constipation
Gas
Nausea
Diarrhea
Vomiting
Headache
Joint pain
Some severe side effects of Pantoprazole may include
Blisters, peeling or bleeding skin
Sores on the lips, nose, mouth, or genitals
Swollen glands
Difficulty breathing or swallowing
Hoarseness
Fever or flu-like symptoms
Irregular, fast heartbeat
Muscle spasms
Uncontrollable shaking of a part of the body
Excessive tiredness
Light-headedness
Dizziness or seizures
Severe diarrhea with watery stools
Abdominal pain
Increased or decreased urination, blood in the urine
Although these side effects are not common, each individual reacts differently to the same drug. So, you may experience almost no side effects or can experience severe adverse effects. Seek immediate help from your doctor if you experience any unwanted severe reactions or side effects.
How to know if Pantoprazole is the drug for you?
MEDNAwise Pharmacogenetic testing is the perfect tool to gauge your response to a particular drug. Genes are responsible for your overall health and your susceptibility to many diseases. MEDNAwise analyses your genes and can predict your response to 70+ drugs including Pantoprazole. You can now know if a particular drug is effective for your unique self. MEDNAwise is a powerful tool that can help eliminate the traditional trial-and-error method of medication. It lowers the rate of therapeutic failure and the risk of adverse drug reactions. That helps your doctor to find the best-suited drug for you. MEDNAwise is the road map to potential future medical problems and emergencies. It can indicate the presence of a disease that could aggravate in the future. With the test results, it is easy for the doctor to start treatment in the budding stages and curb the advancement of the disease. You can also modify your lifestyle to suit your genes and lead a healthier life.
Indus Health Plus has genetic counsellors who help you decide your diet and further health check-ups based on the test results. Personalized medical solutions have never been so easy! MEDNAwise is an affordable, convenient, and easy-to-do test. You can take it at home and send the samples for testing. It is a do-it-yourself spit swab test and requires only a few minutes. The results help you make a plan that can help you lead a healthier life in the coming days.
Secure your future today!
Sign up for the MEDNAwise pharmacogenetic testing today! Call Indus Health Plus today!
Why Choose Indus Health Plus?