Omeprazole : All You Need to Know
Do you experience heartburn very often? Heartburns, or a burning sensation in the chest, can be very stressful. It impacts your life as a whole. Heartburns also cause disturbance in sleep patterns. The medical term for this is called Gastroesophageal reflux disease. It is caused by your lower esophageal sphincter.?A muscle that controls the passage between the esophagus and stomach. There are times when the sphincter does not close completely, and the stomach acid and food flow back into the esophagus. This backwash (acid reflux) irritates the lining of the esophagus causing a burning sensation in the chest (heartburn). It is usually experienced after eating and tends to get worse at night or while lying down.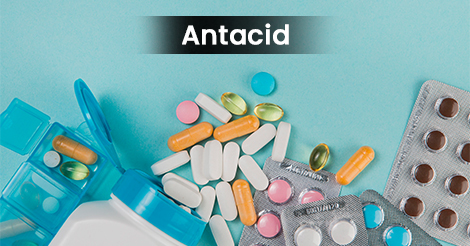 Gastroesophageal reflux disease (GERD) is commonly known as Hyperacidity.
The gastroesophageal reflux disease Symptoms include
Regurgitation of food or sour liquid
Chest pain
Upper abdominal pain
having difficulty swallowing
The sensation of a lump in the throat
Poor clearance of food or acid from the esophagus, excess acid in the stomach, and a delay in emptying the stomach, contribute to gastroesophageal reflux. You must visit the doctor if it is impacting your daily life. The doctors prescribe drugs belonging to the group of medicines called proton pump inhibitors like Omeprazole. Omeprazole is a popular choice of medicine for this condition.
What is Omeprazole?
Omeprazole is in a class of medications called proton-pump inhibitors. It works by decreasing the amount of acid made in the stomach. Omeprazole is beneficial in treating damage from GERD and allows the esophagus to heal and prevent further esophageal damage.
When is Omeprazole prescribed?
Omeprazole is prescribed to treat acid-related disorders of the stomach. It is given for the following conditions
Gastroesophageal reflux disease (GERD)
Peptic ulcer disease
Gastric and duodenal ulcers
Heartburn (burning sensation in the chest)
Zollinger-Ellison syndrome
To treat and prevents the return of ulcers caused by a certain type of bacteria (H. pylori) in adults.
To heal the esophagus and prevent further damage.
Erosive Esophagitis
How is Omeprazole available?
Omeprazole is available in tablet, capsule, or powder form. The powder form has to be taken as a liquid suspension. It is available in different strengths ranging from 10mg (milligrams), 20mg (milligrams), 40mg (milligrams) to 80mg (milligrams).
Many pharmaceutical companies sell Omeprazole under varied brand names.
Some popular brands in the market are
Omez by Dr. Reddy's Laboratories
Ocid by Zydus Cadila Healthcare Ltd
Nogacid by Cadila Pharmaceuticals Ltd (Genvista)
Losec by Emcure Pharmaceuticals Ltd
Acichek by Sanofi Aventis Pharma India
Dosage of Omeprazole and general instructions
Before starting treatment with Omeprazole make your doctor aware of your medical condition and discuss your medical and family history.
You must take Omeprazole as instructed by your doctor. Dosage varies as per the patient.
The doctor decides the dosage based on the age and medical condition of the patient.
It is taken by mouth usually 20 milligrams (mg) once a day for 4 to 8 weeks preferably before a meal.
The action Omeprazole is within an hour of taking it.
You will feel better in 2-3 days and it may take 4-5 weeks for complete relief.
Try to take all doses as advised by your doctor. Do not miss a dose. In case, you do miss a dose, do not take a double dose. Take the next dose as scheduled.
Avoid alcohol and caffeinated drinks while taking this medicine.
Avoid spicy and fatty foods. Eat a healthy and balanced diet.
Omeprazole is not recommended when pregnant.
Omeprazole should be avoided when breastfeeding.
Side effects of Omeprazole
Undesirable effects of the drugs you take are known as side effects or adverse effects. All drugs show minor side effects along with the desired effect on the body. Omeprazole has a few side effects and mostly these do not need any medical attention. If you feel unbearable pain or discomfort with the side effects, you must consult your doctor immediately.
Some common Side effects are
Constipation
Diarrhoea
Difficulty in breathing
Dizziness
Muscle pain
Drowsiness
Chest pain
Excess gas
Vomiting
Some severe side effects of Omeprazole may include
Blisters, peeling or bleeding skin
Sore throat
Sores on the genitals, nose, mouth, or lips
Swollen glands
Difficulty breathing or swallowing
Hoarseness
Fever or flu-like symptoms
Irregular, fast heartbeat; muscle spasms; uncontrollable shaking of a part of the Body.
Excessive tiredness; light-headedness, dizziness, or seizures.
Severe diarrhoea with watery stools, and stomach pain.
New or worsening joint pain.
Increased or decreased urination, blood in the urine.
Increased risk of wrist, hips, or spine fracture.
Some allergic symptoms include rash; hives; itching; swelling of the eyes, face, lips, mouth, throat, or tongue.
Symptoms of an overdose may include
Confusion
Drowsiness
Blurred vision
Fast or pounding heartbeat
Nausea
Vomiting
Sweating
Flushing (feeling of warmth)
Headache
Dry mouth
How to know if Omeprazole is the medicine for you?
To know if Omeprazole is the drug for you, a pharmacogenetics test (genetic testing) is the best match-up. Pharmacogenetic testing is an increasingly popular way to get personalized targeted therapy. Your genes make you unique. Genes are responsible for most things in your life. Genes determine your skin and hair colour, your height, your weight, and even the response your body has to various drugs. It is therefore crucial to know which drugs are the most effective for you and would give you maximum benefits. Today it is very simple to get this test at your doorstep.
MEDNAwise test is your answer. It provides you with genetic solutions in precision medicine. The Indus Health Plus MEDNAwise Pharmacogenetic test is an easy to take do it yourself spit-swab test. You can take it from your homes and send the samples for analysis. Anyone can take this test. It is a perfect way to know the best-suited medicine for you. MEDNAwise test predicts your response to 70+ drugs of varied specialties. It can also help you know if Omeprazole suits you.?
MEDNAwise test can help eliminate the trial-and-error method adopted by your doctor, to find the most effective drug for you. It decreases the chances of therapeutic failure and reduces the risk of adverse drug reactions. MEDNAwise helps your doctor to find the best-suited drug for your unique self. MEDNAwise helps ascertain whether you have inherited variations in your genes that increase the risk of adverse drug reactions to some medicines which can prove fatal if not known before taking them. The results can help you be better prepared for future medical problems. You and your doctor can make an informed decision, which will not only save you from adverse drug reaction but also saves you time and money.
MEDNAwise is an affordable and advanced pharmacogenetic test that comes with genetic counselling support; that helps you and your doctor in understanding your pharmacogenetic report once the results are out.?Be proactive and be future-ready. Sign up for the MEDNAWise pharmacogenetic testing today!
Why Choose Indus Health Plus?