Metoprolol: Medicine For High Blood Pressure
Have you or your loved one been prescribed Metoprolol succinate? Is Metoprolol the right drug for you?
Metoprolol is prescribed for treating many medical conditions. It is also typically prescribed to treat blood pressure or hypertension. Blood pressure is the amount of blood the heart pumps and the amount of resistance to blood flow in your arteries. The higher the volume of blood pumped by the heart and the narrower your arteries, the higher your blood pressure. Untreated high blood pressure can cause damage to vital blood vessels causing heart attacks, stroke, or, in some cases, kidney failure.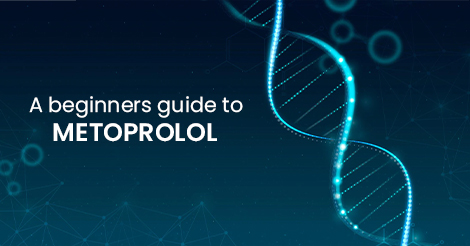 What is Metoprolol?
Metoprolol is an FDA-approved medicine, that belongs to the beta-blockers class of drugs. It is the second most often prescribed beta-blocker.?
Metoprolol primarily works to slow down the heart rate and relax the blood vessels so that the heart does not have to work hard to pump blood. It eases and increases blood flow.?
When is Metoprolol used?
It helps to treat various health conditions, that may put you at risk of cardiovascular diseases.
Doctors usually prescribe Metoprolol in the following conditions.?
High blood pressure or hypertension
Stable heart failure treatment
Cardiac arrhythmia
Irregular heartbeat
Myocardial infarction
Angina pectoris (Discomfort or pain in the chest)
Heart attack
Reduce symptoms such as tremors, and fast heart rate (in people with hyperthyroidism)
Migraine
Metoprolol tablets
Metoprolol tablets can be in tartrate or succinate form. Metoprolol tartrate is an immediate-release tablet, and Metoprolol succinate is an extended-release tablet. It can come in various strengths like Metoprolol 25mg, Metoprolol 50mg, Metoprolol 75mg, and Metoprolol 100mg.
Some of the most famous brands of Metoprolol tablets are:
Metolar-XR (Cipla)
StarPress XL (Lupin Laboratories)?
Betaloc INJ (Astra Zeneca)?
Cardibeta tab (Ranbaxy Laboratories-CV Life)?
Embeta (Intas Pharmaceuticals)
Topol-XL (Lupin Laboratories Ltd)
Actiblok IPR (Biocon Limited) Lopressor (Novartis)?
Kingbeta (Panacea Biotec)
The tablet has to be taken by mouth. It can be given as an injection during the early phase of a heart attack to lower the risk of death.
The dose of Metoprolol varies depending upon the condition and type of tablet (Metoprolol succinate or Metoprolol tartrate)
What are the precautions you need to exercise before taking Metoprolol?
Always talk to your doctor about your medical history. The doctor needs to know the medicines you are taking and the health issues you may have faced in the past.?
Inform your doctor if you have any of the following before starting your Metoprolol prescription.?
Any known allergies you may have. If you are allergic to any particular medication or ingredient.
If you are breastfeeding or pregnant.
If you have any breathing problems or disorders like asthma.
If you have diabetes or a diagnosed prediabetic.?
How to take a Metoprolol tablet?
Any medication should be taken exactly the way the doctor tells you. It has to be taken in the correct dosage.
Always consult your doctor before deciding to stop taking the medication.
Always take Metoprolol with or after food.
Never stop the medicine abruptly. Remember the dose needs to be, reduced before eventually stopping. The doctor can decide the right time to stop taking it. A sudden halt in consuming Metoprolol may worsen your condition.
How to store Metoprolol?
It is crucial to store the medicine in a dry and cool place. It should be kept away from direct and harsh sunlight. Always check the expiry date and never consume expired medicine.?
Some side effects of Metoprolol
Metoprolol is generally a very safe drug. It is not known to cause any major side effects. Although sometimes you may experience the following.?
Numbness especially in the fingers or toes
Light-headedness
Feeling of tiredness
A feeling of a heart beating slowly
Shortness of breath
Vomiting
Difficulties associated with sexual intercourse
Consult your doctor immediately if you feel you are getting any allergy associated with the drug or if any of the above symptoms turn out to be severe and bothersome.?
Is Metoprolol the correct drug for me?
You may wonder why many drugs are available in the market to treat the same ailments and diseases. Many people have been diagnosed with high blood pressure due to their high-stress lifestyle. They do not take the same medicine, although their primary disorder is the same. The doctors decide on the medicines based on the overall health of the individual and other parameters like height, weight, and other co-existing medical conditions. As the profile of every individual is different, the genes of every individual are different too. These genes influence overall health, including risk for high blood pressure, heart diseases, and other related disorders.?
The traditional way of the trial-and-error method for finding the correct medicine is passé now.
Getting precise medicine for your health condition is very important, as it ensures speedy recovery, reduced risks of side effects, and delay in any major attack or episode.?
Genetic testing?has paved the way to determine how your genes can help you lead a better lifestyle.
What is genetic testing?
Genetic testing is the silver lining to making sense of the chaotic market of drugs!?
Genes influence the metabolism of the drugs you take.?
The study of genetic information to predict response to a drug is known as pharmacogenetics. The?Indus Health Plus MEDNAwise genetic testing?is a bold, new way to know your risk factors for particular diseases. It also helps to know which medicine is the best suited to your unique self. The perfect tool to help doctors prescribe the best and most effective drug.?
MEDNAwise is a pharmacogenetic testing product from Indus Health Plus. It can predict your genetic response to 70+ drugs used in different medical specialties, including Metoprolol. This a promising result for all your future doctor visits.?
It is a simple spit-swab test. You can take this test from the comfort of your home. Based on the DNA, a detailed report is provided that tells you about your genetic risks and empowers the doctors to plan & personalize your medications. The added advantage is that our experienced genetic counsellors guide you with recommendations on diet and further tests you may need to take.?
Let the MEDNAwise genetic testing be your defining moment. The era of personalized medicines has dawned, and you should take full advantage of that. Call our friendly staff and book your MEDNAwise test today!
Why Choose Indus Health Plus?