Know More About the Drug Mercaptopurine
Cancer is a common word today, and with cases on the rise, it is one of the leading causes of death worldwide. Cancer means the development of abnormal cells that can divide without any control and spread across destroying the normal tissues in the body. There are varied types of cancers. Acute lymphocytic leukaemia (ALL) is a type of cancer of the blood and bone marrow. The disease progresses fast and creates immature blood cells, rather than mature ones. Acute lymphocytic leukaemia is the most common type of cancer in children, and treatments result in a good chance of a cure. Acute lymphocytic leukaemia can also occur in adults, though the chance of a cure is greatly reduced.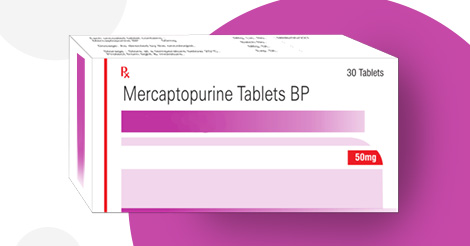 Symptoms of acute lymphocytic leukaemia may include
· Fever
· Bleeding gums
· Bone pain
· Weakness
· Frequent nosebleeds
· Recurrent infections
· Swollen lymph
· Nodes in the neck, armpits, abdomen, or groin
Mutations in Genes/DNA cause the bone marrow produces immature cells that develop into leukemic white blood cells called lymphoblasts. The term 'Acute' is used because the disease progresses rapidly. The doctor may start therapy with Mercaptopurine.
What is Mercaptopurine?
Mercaptopurine is in a class of medications called purine antagonists. The key constituent of this medication is a purine analogue which works against leukaemia. It is a chemotherapy drug that works by slowing or stopping the growth of cancer cells. Mercaptopurine is also used to treat certain other types of cancer, Crohn's disease, and ulcerative colitis. Mercaptopurine is given in combination with other drugs. The combination treatment proves to be useful in the treatment of and remission maintenance of leukaemia.
How is Mercaptopurine available?
Mercaptopurine comes as a tablet and a suspension (liquid).
Common Brand names in which Mercaptopurine is available are
· Purinethol by GlaxoSmithKline Pharmaceuticals Ltd
· Empurine by Dabur Pharma Limited
· Mercaptopurine by Chandra Bhagat Pharma Pvt. Ltd
· Puri-Nethol by Glaxo SmithKline Pharmaceuticals Ltd.
· 6MP Zydus Cadila Healthcare Ltd. (Biogen)
· Purinetone by VHB Lifesciences Inc
Dosage and Instructions
Below are some things that you must discuss with your doctor before you take Mercaptopurine.
· Take this medicine only as directed by your doctor.
· Before starting treatment with Mercaptopurine inform your doctor if you have any medical condition or if you have a history of any medical condition. If you are taking any medications.
· Inform your doctor if you are allergic to Mercaptopurine.
· Also, tell the doctor if you are pregnant or planning for Pregnancy.
· Tell your doctor if you suffer from renal or liver issues.
· Whenever you take any medicine, with certain foods, beverages, or other medicines, you are at risk of a drug interaction. So, tell your doctor about the medicines you take and your daily diet.
How is Mercaptopurine best taken?
· Mercaptopurine has to be taken orally by mouth.
· The drug can be taken with a meal or without it.
· Remember to take the medicine at the same time every day.
· Store the medicine in a dry place and at room temperature.
· Make sure that you consume a lot of fluids when using Mercaptopurine
· The dosage should be taken as per the doctor's guidance. For tablets, the usual daily maintenance dose is 1.5 to 2.5 mg/kg/day orally as a single dose.
· For suspension usual maintenance dose is 1.5 to 2.5mg/kg/day orally as a single dose.
· If you happen to miss a dose, contact your doctor as soon as possible.
Side effects of Mercaptopurine
Any medicine can cause some unwanted effects. These do not require medical attention and tend to get better with time. If you experience any unwanted effects, it is best to discuss them with your doctor.
When considering the side effects of Mercaptopurine, you may experience the following
· Nausea
· Vomiting
· Darkening of the skin
· Hair loss
· Rash
With Mercaptopurine, you are at an increased chance of getting an infection. Remember to wash your hands often.
Try to stay away from people with colds, flu, or infections.
Take good care of yourself and try to avoid any minor injuries.
An allergic reaction may induce difficulty in breathing, an experience of hives or swelling of your face, lips, tongue, or throat.
Severe side effects of Mercaptopurine include
· Weakness
· Pale skin
· Shortness of breath
· Sore throat, fever, chills, or other signs of infection
· Swelling in the legs, ankles, or feet
· Unusual bruising or bleeding
· Yellowing of the skin or eyes
· Loss of appetite
· Diarrhoea
· Swelling of the stomach area
· Pain in the upper right part of the stomach
If you feel uneasy at any time during medication, or experience severe unwanted adverse effects, you should consult the doctor immediately.
Is Mercaptopurine for you?
In diseases like cancer, time is of the essence, and if you get the perfect treatment on time, it can yield better results. Each individual reacts differently to the drugs. Some may show excellent results, while some may not experience the benefits, of the same drug and dosage. So, are you wondering if Mercaptopurine would bring you the desired results? Well, MEDNAwise pharmacogenetic testing would help you with that. It can tell you your body's response to Mercaptopurine and other drugs too.
Genes define an individual. It makes the person unique. Genes also define many things like height, weight, and even your response to the drugs you take. MEDNAwise Pharmacogenetic test has made it possible to predict your response to 70+ drugs across varied medical specialties. With this knowledge, the doctor can eliminate the trial-and-error method and prescribe the most effective drug for you. That also reduces therapeutic failure and the risk of adverse drug reactions.
MEDNAwise is a no prick, no blood, simple saliva swab test. You can take it from anywhere and send the sample to Indus labs. The results enable the doctors to find the correct match of medicines for your body. The results also make you aware, and you can make lifestyle changes to benefit your health. The best part is Indus Health Plus, provides you with counselling sessions for understanding results and recommendations of the MEDNAwise test.
Be proactive in managing your health. Opt for good health and a healthier future! Sign up for the MEDNAwise Pharmacogenetic testing today.
Why Choose Indus Health Plus?