Is Meloxicam the drug for you, for pain relief?
Along with many feelings, humans are endowed with a feeling of pain, which can be triggered by an emotional or physical reaction. In developed countries, pain is one of the most common reasons, people visit a doctor. Pain can appear in several forms like a tingle, prick, sting, or even a burn. It can be a sudden sharp feeling or a dull but nagging feeling. Pain is an unpleasant sensory reaction due to a damaging stimulus. It is a reaction to the core issue or the underlying condition. There are times when the body heals itself and no medical intervention is required. Sometimes you need to visit the doctor to resolve it.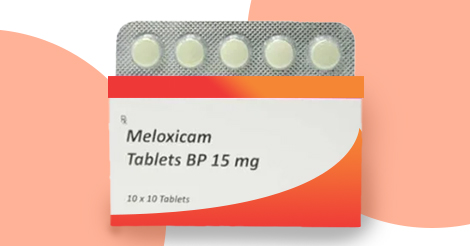 Pain can be broadly divided into acute pain and chronic pain. Acute pain is caused due to an injury, accident, inflammation, or disease. This type of pain is sudden and can be diagnosed and treated easily. If this pain is not resolved, it may turn into chronic pain. Chronic pain is pain that has been causing trouble over a long period. It may lead to severe complications and problems.
While not all pain can be cured, it surely can be treated. Sometimes drugs and medicines are used to treat the pain, the doctor may also club medicines with procedures like physiotherapy, acupuncture, or surgery if needed. Pain relievers like NSAIDs and opiate (narcotic) analgesics are the preferred choice of medicines to treat any pain. Treatment is decided on the cause and type of pain. Meloxicam is often used to treat pain associated with swelling and tenderness.
Let us understand Meloxicam better
Meloxicam is beneficial in the treatment of musculoskeletal disorders, and arthritis. It is used to relieve tenderness, swelling, stiffness, and pain experienced by the patients.
Mainly the following types of arthritis can be treated using Meloxicam
· Osteoarthritis (breakdown of the lining of the joints)
· Rheumatoid arthritis (a chronic arthritis caused due to swelling of the joints)
· Juvenile rheumatoid arthritis (arthritis that affects children) in children 2 years of age and older.
It is beneficial to reduce the pain, tenderness, swelling, and stiffness caused by these conditions.
A nonsteroidal anti-inflammatory drug (NSAIDs), Meloxicam helps reduce the production of hormones in the body that can cause fever, pain, and inflammation.
How to take Meloxicam?
Meloxicam comes as a tablet, injection, or liquid.
· The tablet is to be taken orally, by mouth.
· It is usually taken once a day. You can take it with a meal or without food, as per the suggestion of your doctor.
· It is advised to take Meloxicam around the same time every day.
· Always follow all directions of the doctor when taking Meloxicam
· Consume the exact prescribed doses.
· Never alter a dose without the approval of the doctor.
· If you ever miss a dose, you can check with your doctor. Never double the doses.
· The injection is given in the vein by your doctor.
Precautions to be followed while taking Meloxicam
People who take Meloxicam for a long period with high doses may be at a higher risk of having a heart attack, or a stroke than people who do not take these medications. So, discuss all your heart-related problems with your doctor before starting the treatment.
Inform your doctor if you have ever had any of the following health problems:
• High blood pressure
• High cholesterol
• Diabetes
• Have had a stroke or a heart attack
• Ever had a blood clotting issue
• Stomach ulcers
• Kidney disease Liver disease
• Fluid retention.
Smoking and drinking alcohol are not recommended when taking Meloxicam.
Inform your doctor if you are allergic to Meloxicam or any NSAIDs, including aspirin.
Also, inform about your health history and family medical history to your doctor.
Dosage:
The recommended dosage for an oral or rectal route:
· In the case of Ankylosing spondylitis and Rheumatoid arthritis is 15 milligrams (mg) once daily.
· In patients with an increased risk of adverse effects, the initial dose is half, 7.5 milligrams (mg) once daily.
· In case of Acute exacerbations of osteoarthritis, the dose is 7.5 milligrams (mg) once daily. A maximum of 15 milligrams (mg) once daily.
How is Meloxicam sold?
Meloxicam comes as a tablet and as a suspension. It is commonly sold under popular brand names like the ones listed below
• Muvera by Sun Pharmaceutical Industries Ltd.
• M-Cam by Torrent Pharmaceuticals Ltd.
• Movel by Emcee Pharmaceuticals Pvt Ltd.
• Melonex by Intas Pharmaceuticals Ltd.
• Melaret by Panzer Pharmaceuticals Pvt Ltd.
• Tmel by Tetramed Biotek Pvt Ltd.
• Divi M by Flagship Biotech International.
• Movacam by Klintoz Pharmaceuticals Pvt Ltd.
Side Effects of Meloxicam
Meloxicam may cause side effects in some people. Most of the time the side effects are mild and common. These side effects get better with time. It is advised to consult your doctor if you feel any troublesome unwanted side effects.
Some common side effects of Meloxicam
• Diarrhoea
• Constipation
• Gas
• Sore throat
Some severe side effects
In some rare cases, patients may experience some severe adverse effects. If you experience any dire or severe side effects, you must contact your doctor immediately or get emergency medical attention.
• Fever
• Blisters
• Rash
• Skin blisters or peeling
• Hives
• Itching
• Swelling of the parts of body like your face or lips
• Difficulty breathing or swallowing
• Hoarseness
• Pale skin
• Fast heartbeat
• Shortness of breath or difficulty breathing
• Unexplained weight gain,
• Swelling in the legs or the abdomen
• Nausea
• Excessive tiredness
• Lack of energy
• Yellowing of the skin or eyes
• Pain in the upper stomach
• Flu-like symptoms
• Cloudy, discoloured, or bloody urine
• Back pain
• Difficult or painful urination
Sometimes an overdose could cause the following symptoms. It is crucial to take the dose exactly as advised by your doctor. The symptoms may include the following:
• Lack of energy
• Drowsiness
• Nausea
• Vomiting
• Stomach pain
• Bloody, black, or tarry stools
• Vomit that is bloody or grounded coffee like
• Difficulty breathing
• Seizures
• Coma
Is Meloxicam the drug for your pain?
It is a practice amongst the medical fraternity to prescribe a drug based on a trial-and-error approach. A medicine is given to the patient and the patient's response is recorded to gauge the suitability of that medicine. The drug or the dose is then altered to suit the cause, as needed. Today with advances in medical science, it is possible to know the exact response of a patient to a drug. Genes are central to the efficacy of medicines. They are responsible for the response your body has towards drugs. The MEDNAwise pharmacogenetic test can predict your genetic response to 70+ drugs in different medical specialties. It can also tell you your body's response to Meloxicam. It is the best tool to know which drug and what dose will give you the most effective results.
Armed, with this diagnostic tool, doctors can help give you personalized medicines to get the best results. It helps improve patient safety by suggesting drugs with the least adverse effects. the entire precision therapy helps improve patient outcomes. The MEDNAwise test is affordable and easy to administer. You can take the saliva sample and send it for testing. Post results, our genetic counsellors will help you interpret the results and understand the suggested recommendations for a healthier future. It is a blessing to have such an amazing test available that has made precision treatment possible to get better results. Get the medical edge, and know your body better, sign up for MEDNAwise pharmacogenetic testing today.
Why Choose Indus Health Plus?