Is Lornoxicam the Medicine For Your Pain?
Did you know, the word pain comes from the Latin language meaning a penalty or punishment? When you feel pain in any form, it is indeed a punishment to your body. A disturbing feeling, pain is unpleasant. Any small thing like a prick or sting may cause pain. A burn, ache, and tingle are all forms of pain. Any uncomfortable sensation is known as pain. It is an indication that the pain site in the body needs attention. Not all pain can be cured, but it can be treated. Depending upon the type of pain, the treatment is decided by a medical professional or doctor.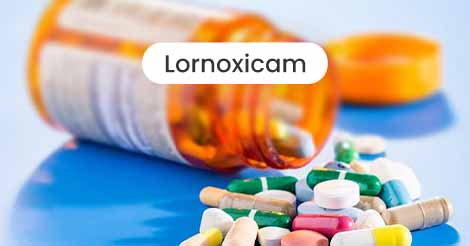 Pain can be acute or chronic. Acute pain is the type of pain you may experience after an injury or disease or inflammation. It tends to get better with time and usually goes away with little or no medical attention. Chronic pain on the other hand is a pain that lasts over a long period and tends to cause complications and other severe problems. Treatment for pain includes acupuncture, physiotherapy, surgery, and sometimes medicines like pain relievers namely NSAIDs (non-steroidal anti-inflammatory drugs) and opiate (narcotic) analgesics. Medicines like Lornoxicam are often beneficial to relieve pain.
What is Lornoxicam?
Lornoxicam is used to treat moderate pain. Lornoxicam is useful for
• Pain after dental surgery
• Pain associated with acute sciatica
• Pain and inflammation in osteoarthritis and rheumatoid arthritis (provides symptomatic relief)
• Reduce swelling
• Relief from Spondylitis
A non-steroidal anti-inflammatory drug, Lornoxicam blocks the release of certain chemical messengers that are responsible for inflammation (pain and swelling). It belongs to the oxicam class of medicines, it has anti-inflammatory, analgesic, and antipyretic properties.
How to take Lornoxicam and the Dosage
Lornoxicam comes as a tablet to take by mouth, with food.
It is also available as a solution for injection to be administered in the vein or muscle.
The dosage is decided by your doctor based on your age, medical condition, gender, and medical history.
The recommended doses are usually:
• In adults, the oral dose for pain relief is 8-16 milligrams (mg) per day.
• For Osteoarthritis, the maximum dose is 24 milligrams (mg) per day.
• For Rheumatoid arthritis, the dose is 12 milligrams (mg) per day. It is divided into two or three doses, up to a maximum of 16 milligrams (mg)/day.
• For the injection (IV or IM) to relieve pain, the dose is 8 milligrams (mg), once or twice per day. The maximum dose is 24 milligrams (mg) per day.
How is Lornoxicam available?
Lornoxicam is available as 4 milligrams (mg), 8 milligrams (mg) tablets, and as an injection.
It is commonly sold under brand names like
• Flexilor by Glenmark Pharmaceuticals Ltd.
• Lorox by Dyota Numandis Pharmaceuticals Ltd.
• Flexilor by Glenmark Pharmaceuticals Ltd.
• Fulactive by Ranbaxy Laboratories
• Lorsumo by Alkem Laboratries Ltd.
• Lorsaid by Piramal Healthcare Ltd.
• Lorfit by Alembic Ltd.
• Lofecam by Sun Pharmaceuticals Industries Ltd.
• LRN by Glenmark Pharmaceuticals
• Camri by Cadila Zydus
Precautions before using Lornoxicam
Before taking any medicines, it is recommended to discuss your medical history and current intake of medicines with your doctor. People who take Lornoxicam can be at a higher risk of having a heart attack, or a stroke than people who do not take it. so, it is crucial to discuss any heart condition or blood clotting issue you may have.
Inform your doctor if you;
• Are allergic to Lornoxicam, Aspirin, or any other NSAIDs
• If you have any kidney disorders
• Have edema
• Heart diseases
• Are Pregnant
• Are breastfeeding
All medicines need to be consumed with caution and only under the guidance of your doctor.
Side Effects Lornoxicam
All medicines have side effects along with the desired effects. Most side effects are cured with time and are mild. If you experience any unusual side effects with Lornoxicam, discuss it with your doctor.
Common Side Effects of Lornoxicam
• Vomiting
• Nausea
• Indigestion
• Stomach pain
• Diarrhoea
• Frequent urination, especially at night
• High blood pressure
• Headaches
Generally, severe side effects are rare and are seen seldom. Some severe effects are internal bleeding, bronchospasms, and a very rare skin reaction known as the Steven-Johnson syndrome. If you experience any severe reaction, contact your doctor immediately and get medical attention. Doctors usually prescribe a drug based on a trial-and-error approach to see if the medicine suits you. With any reported side effects, the doctor may change the medicine or the dose of the medicine. So, is there a way to know if Lornoxicam suits you? Yes, today with the advances in medical sciences, it is possible to know if a particular drug suits you. The MEDNAwise pharmacogenetic test from Indus Health Plus is the best tool to know your body's response to 70 + medicines across medical specialties.
The advantages of the MEDNAwise pharmacogenetic test are that it mitigates the adverse effects based on the patient's response to a particular medicine. It eliminates the trial method of medication, as you immediately know the most effective drug for you. MEDNAwise test also lessens therapeutic failure and a no-response situation. As you already know, each individual has a unique set of genes. genes are instrumental in defining several characteristics of your body along with the response your body will have to different medicines. MEDNAwise test can forecast your genetic response to Lornoxicam along with several other drugs, in different medical specialties.
Pain management has become easy with this test. Undermanaged pain can lead to several complications and delay recovery hence it is necessary to take the right medicine in the correct doses. MEDNAwise makes this decision very easy for doctors. The doctors know the exact drug and dose for your unique self and medical condition.
A do-it-yourself test, MEDNAwise is affordable and easy to administer. Take your saliva sample from anywhere and send it for testing. After the results, the counsellors help you interpret the results and suggest future health plans. It is that simple! The best part? It is a one-time test, the results can be reused again and again, whenever a medical emergency or a medical situation arises. A ready reckoner for the doctors, you can be assured of fast and best treatment each time, every time.
The future of better medical healthcare is here and you should be a part of it. MEDNAwise test is the cornerstone of personalized medicine and precision medicine. It helps improve patient results and makes the treatment safer and with lesser adverse effects. The overall well-being of the patients has improved. Now is the time to secure a healthy future and make the best of it. Book your MEDNAwise pharmacogenetic test today. Call Indus Health Plus for an appointment.
Why Choose Indus Health Plus?