Would Imipramine Help You Cope With Depression?
Did you know? It is normal to feel sad. We have all experienced that in our lives. It could be some emotional reason; some physical failure, or even not scoring good grades as a child. Feeling sad is part of life.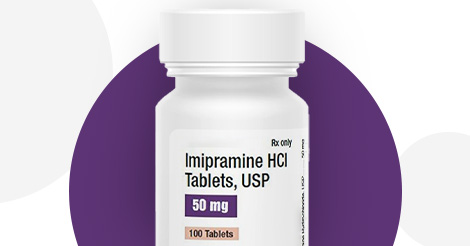 With all the ups and downs, life is a mix of happiness, sadness, jealousy, anger, and satisfaction. Feeling emotions is a huge component of life. While, feeling sad can be a normal thing, sometimes, some people tend to experience this sadness over a long period. The sadness has no particular cause, and it does not go away. When such a stage comes, when the sadness overpowers everything, hampers your daily activities, and you can think of nothing but your sad state, it is crucial to see a medical professional. The stage could also lead to depression and can be a symptom of depressive disorder or mood disorder.
A depressive disorder is a painful state both for the patient and the close ones. It impacts your normal routine life and can prove to be a huge challenge. Depressed people need a lot of love and support from their near and dear ones. Therapy and medicines are the best way to deal with it. Consulting the doctor is a must and it is surely the best way forward. The doctor may recommend some antidepressants like Imipramine.
What is Imipramine?
Imipramine is often used to treat symptoms of depression. It is beneficial to treat anxiety and some panic disorders. Imipramine belongs to the tricyclic antidepressants class of medicines. It acts on the neurotransmitter system in the brain. It helps increase the amounts of certain natural substances in the brain that are required to maintain mental balance. It also has some analgesic effects.
How to take Imipramine?
• Imipramine comes as a tablet and a capsule to take by mouth.
• To treat depression, Imipramine is taken one or more times a day
• You can take it before or after your meal as suggested by your doctor.
• Your doctor can initiate the therapy with a low dose and gradually increase your dose. Imipramine is also sometimes prescribed to treat eating disorders and panic disorders.
• It usually takes 1-3 weeks or longer to experience the benefits of Imipramine. It is crucial to continue taking Imipramine even if you feel well. Never stop Imipramine without consulting your doctor. Your doctor can decide and decrease your dose gradually.
• For the missed dose, you may take it when you remember. However, if the next dose is soon, you can skip the missed dose and continue with your next dose as per schedule.
• Imipramine has to be consumed as suggested by your doctor. Never take an excess dose or less dose. Take it in the doses as recommended by your doctor. Never take it for a longer time than told by your doctor.
Dosage
For oral dosage form (capsules):
For depression:
• Adults: The starting dose is 75 milligrams (mg) once a day. It can be adjusted by your doctor as needed. Do note, the dose is usually not more than 200 mg per day unless you are in the hospital. The patients who are hospitalized can need higher doses.
• Teenagers and older adults: The starting dose are 25 to 50 mg per day using tablets. Your doctor may adjust your dose as needed and switch you to the capsule form. However, the dose is usually not more than 100 mg per day.
• Children: The doctor takes the decision based on the condition of the child.
How is Imipramine available?
Imipramine is available in tablet ( 10 milligrams, 25 milligrams, and 50 milligrams) and capsule form (75 milligrams, 100 milligrams, 125 milligrams, and 150 milligrams)
You can find it in the market easily. It is sold under the popular brands listed below:
• Antidep, Torrent Laboratories Pvt. Ltd.
• Antidep (75 mg), Torrent Laboratories Pvt. Ltd.
• Depik, Aarpik Pharmaceuticals Pvt Ltd.
• Depik, Aarpik Pharmaceuticals Pvt Ltd.
• Depnil (25 mg), Tas Med India Pvt. Ltd.
Precautions and warnings
Discuss with your doctor the possible risks associated with Imipramine. Tell your doctor about your allergies and reactions. Discuss your family and health history with the doctor, and talk about any medicines you take, any surgeries you may have had, and the kind of diet you follow.
Let your doctor know if you take monoamine oxidase (MAO) inhibitors like dicarboxamide (Marplan), linezolid (Zyvox), methylene blue, phenelzine (Nardil), selegiline (Eldepryl, Emsam, Zelapar), and tranylcypromine (Parnate). Also, inform your doctor if you have stopped taking the same in the recent past.
Let your doctor know of your dental surgeries if any.
Imipramine is not always suitable during pregnancy or breastfeeding, inform your doctor if that is the case for you.
Side effects associated with Imipramine
Imipramine may cause side effects like any other drug. Most of the side effects are common and get better with time. Tell your doctor if any of the below-listed symptoms do not go away.
Some common side effects
• Nausea
• Drowsiness
• Weakness or tiredness
• Excitement or anxiety
• Nightmares
• Dry mouth
• Skin more sensitive to sunlight than usual
• Changes in appetite or weight
• Constipation
• Difficulty urinating
• Frequent urination
• Changes in sex drive or ability
• Excessive sweating
Some side effects may turn out to be severe. Each individual reacts differently to the same drug, and you may experience side effects differently from others. If you experience any of the following symptoms call your doctor immediately or opt for emergency treatment.
Some severe side effects
• Jaw, neck, and back muscle spasms
• Slow or difficult speech
• Shambling walk
• Uncontrollable shaking of a part of the body
• Signs of infection
• Sore throat, fever
• Difficulty breathing or swallowing
• Severe rash
• Yellowing of the skin or eyes
• Irregular heartbeat
Does Imipramine suit you?
Until a few years ago, that would have been a difficult question to answer.
Today with MEDNAwise pharmacogenetic testing, it is indeed extremely easy to find out the drugs that suit you, the drugs that give the best results, and the drugs that cause the least adverse effects.
Results with specific DNA information are a huge step in medical science! You can certainly know if Imipramine is the drug for you. Each individual has a unique set of genes and these genes decide the impact of medicines on your body. MEDANwise studies these genes and tells you exactly which drug would be the most effective. With the MEDNAwise test, it has become easy to personalize drugs to suit your unique self-based on your unique genetic makeup. Moreover, the MEDNAwise test enables you to know the chances of getting any disease and an early diagnosis. The early diagnosis, helps you start the treatment soon and delay the onset or stop the disease from manifesting.
MEDNAwise pharmacogenetic test, helps your doctor to prescribe the best and most effective drug eliminating the traditional hit-and-trial method. With this test, you can know your genetic response to 70+ drugs used in different medical specialties.MEDNAwise is an easy, simple, direct-to-consumer test. It a saliva test. You can do it from the comfort of your house. After the results, the counsellors are available for a free consultation on the test results. They guide you with effective diet plans and further health check-ups.
It is time to make the best of this medical advancement. Get the best for yourself, call Indus Health Plus today and book your MEDNAwise pharmacogenetic test!

Why Choose Indus Health Plus?