Dexlansoprazole : All You Need to Know
Eating a full-course meal is indeed a treat in itself. Especially if it is your favourite, you are bound to eat more. Although eating delicious food is exciting, sometimes digesting it becomes difficult. Some people even complain of heartburn and acidity. Have you ever felt the same way? Maybe not after a hearty meal, but after you eat anything. If you feel you get acidity very often it is time you consulted a doctor. The problem is more common than you think. Every year there are more than millions of people, who experience problems related to gastroesophageal reflux disease (GERD). The doctors may prescribe drugs known as proton pump inhibitors, like Dexlansoprazole.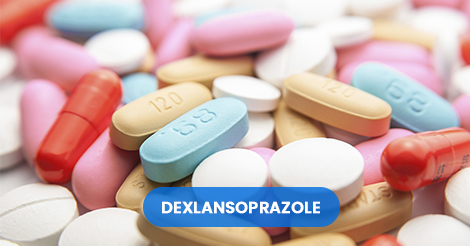 What is Dexlansoprazole?
Dexlansoprazole is an antiulcer medication. It belongs to the class of drugs called proton pump inhibitors. It is beneficial to treat stomach and esophagus problems related to acid reflux. It works by reducing the amount of acid your stomach makes. It is beneficial to relieve symptoms like heartburn, difficulty swallowing, and cough. Dexlansoprazole helps heal acid damage to the stomach and esophagus.
When does the doctor prescribe Dexlansoprazole?
Dexlansoprazole works by blocking the action of an enzyme in the stomach, that is responsible for the production of acid. That results in a decreased amount of acid production resulting in the healing of the ulcers. It also prevents new ulcer formation. Doctors prescribe Dexlansoprazole to treat the following symptoms
Heartburn
Acidity
Gastroesophageal reflux
Coughing after meals
Difficulty swallowing food
A feeling of pain or burning sensation in the chest
Erosive esophagus
Acid related indigestion
How to take Dexlansoprazole?
The doctor assesses your medical condition before deciding on the dose of Dexlansoprazole. Always take the medicines as advised by your doctor, for the exact period it is given for. Dexlansoprazole comes as a delayed-release capsule. Some of the medicine is released in the intestine after you take it, and some of it is released about 4 to 5 hours later. Dexlansoprazole is a capsule to be taken orally, by mouth.
It is usually taken once a day.
Dexlansoprazole may be taken with or without food.
It is beneficial to take Dexlansoprazole at around the same time every day.?
If you miss a dose, take it when you remember. If it is almost time for the next dose, skip the missed dose.
Dosage for Dexlansoprazole
The dosage varies as per the age, medical condition, and related symptoms of the patient. For oral dosage form (delayed-release capsules) the treatment can be as follows.
For treatment of erosive esophagitis (EE): Adults and children 12 years of age and older—60 milligrams (mg) once a day for up to 8 weeks.
To prevent erosive esophagitis from showing again and for relief of heartburn, your doctor may want you to take 30 mg once a day for up to 6 months.
For treatment of gastroesophageal reflux disease (GERD): Adults and children 12 years of age and older—30 milligrams (mg) once a day for 4 weeks.
Some precautions to be taken with Dexlansoprazole
Inform your doctor about any medical surgeries or problems you may have had in the past. Let your doctor know if you are hypersensitive to proton pump inhibitors. Dexlansoprazole tends to increase your risk for bone fractures, especially in older adults. Also, if it is for prolonged use and higher doses. Discuss this with your doctor and know the ways to prevent bone damage and fracture. The doctor may suggest ways like taking calcium and vitamin D supplements. With Dexlansoprazole there is an increased risk of new or worsening symptoms of lupus. Inform your doctor if you have a skin rash or joint pain. Talk to your doctor if you have any liver or kidney problems. Swallow the capsule as a whole, and never chew or crush it. Never alter the doses on your own. Always consult your doctor before you change the dosage.
Availability of Dexlansoprazole
Dexlansoprazole is available in the market under several brand names by various pharmaceutical companies. Some popular brand names for Dexlansoprazole are:
DDR (MSN Laboratories)
Duabit (Alembic Pharmaceuticals Ltd)
Lanfil DX (Fourrts India Laboratories Pvt Ltd)
Dexlanzol (Cipla Ltd)
Lantas-DX (Qantas Biopharma Private Limited)
Dexolan (Waterley Pharmaceuticals Pvt Ltd)a
Dexsofighter (Goldenlad Pharmaceutical Pvt Ltd)
Adverse Effects with Dexlansoprazole
All drugs including Dexlansoprazole show some adverse reactions, along with the desired effect they have.
Some common side effects of Dexlansoprazole
Abdominal pain
Diarrhoea
Flatulence
Nausea
Vomiting
Upper respiratory tract infection
Headache
Some symptoms may be signs of a more severe condition. Get medical help or call your doctor right away if you have
Heartburn
Light-headedness
Excessive sweating
Dizziness
Chest or jaw pain
Arm or shoulder pain (especially accompanied by shortness of breath, unusual sweating)
Unexplained weight loss
How do I know Dexlansoprazole suits me?
Traditionally, doctors prescribe a drug, and according to the response from the patient, they alter the dosage or change the drug entirely. Today this trial-and-error method has become obsolete. Personalized medicines have replaced the traditional approach. Pharmacogenetics has changed the medical scenario completely. Pharmacogenetics is the study of genes and the variability of the response they give to different drugs. Each individual will react differently to the same drug. Pharmacogenetic testing tells you how your genes will respond to the drugs.
Indus Health Plus has an affordable and easy-to-take pharmacogenetic test called MEDNAwise pharmacogenetic testing. With the MEDNAwise test, the doctors at once know the drugs that are best suited for you. This test can predict your genetic response to 70+ drugs used in different medical specialties. MEDNAwise makes it easy for doctors to get the best-suited drug for your unique self. It is the best way to know if Dexlansoprazole is the drug for you. MEDNAwise test is a powerful tool. It tells you whether or not you will face adverse reactions to a particular drug. It helps the doctor to prescribe a safer medicine with lesser side effects. It helps reduce the cost of medication too, as you no longer need to buy multiple drugs to see which suits you the best or which is the most effective.
MEDNAwise provides a detailed roadmap to your future health. This provides the doctor to analyze your health scenario better. You can take precautionary measures as per the results to curb any future medical emergency. MEDNAwise test plays a major role to identify any hereditary risk of cancer, cardiovascular diseases, or other disorders, even before you show any symptoms. That is revolutionary as the doctors can treat the disease and even stop it from progressing way in advance before the disease manifests. MEDNAWise genetic testing is a simple saliva swab test and, can be taken from your home. With efficient results on time, you can also take advantage of the in-house genetic counsellors of Indus Health Plus who guide you with further health plans; based on your results. It is never too late to make health your top priority. MEDNAwise can open your doors to many actionable plans to improve your future health. Take charge and make the most of this personalized testing and treatment solution. Do not wait any longer, sign up to test with MEDNAwise pharmacogenetic testing for a healthier future and a healthier you!
Why Choose Indus Health Plus?