Tamoxifen, Is It the Correct Drug For You?
Breast cancer is the second most diagnosed cancers among women worldwide. It most likely affects women over 50 years of age, but it can occur at any age. Rarely do we see men can also be affected by it. Approximately 5-10% of Breast cancers are hereditary.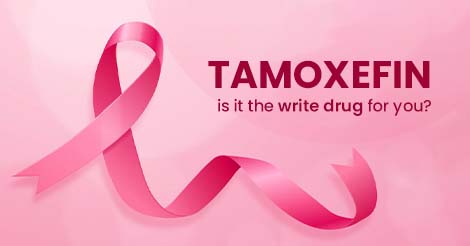 The sedentary lifestyle and environmental factors have caused cancer cases to rise. Did you know researchers have found that genes and environmental factors increase the risk of breast cancer? The exact cause is unknown. A lump or tumour can appear in breast tissue, under the nipple, or in the axillary region. The good news is that breast cancer is treatable and can be cured. A lot of research and support has caused advances in the treatment of breast cancer. Treatment options for breast cancer are surgery, chemotherapy, radiation therapy, hormone therapy, immunotherapy, and targeted drug therapy. We would find approximately 75% of breast cancers to be hormone-positive in patients with menopause. These tumours need hormones
estrogen or progesterone (or sometimes both) to grow. Drugs like Tamoxifen blocks the action of estrogen, thus lowering the chances of growth of breast cancer.
What is Tamoxifen?
Tamoxifen is a highly effective hormonal therapy known as a selective estrogen receptor modulator (SERM). It attaches to hormone receptors (specific proteins) in breast cancer cells. inside cells, it stops cancer from accessing the hormones they need to multiply and grow. Tamoxifen is used to treat all stages of Breast cancer in women and men. It is also used to reduce the risk of breast cancer in high-risk patients and cancer recurrence. Tamoxifen also prevents Osteoporosis and lowers Cholesterol in Postmenopausal women.
How to take Tamoxifen?
Follow all the directions of your doctor before taking Tamoxifen.
Tamoxifen is taken by mouth once or twice a day.
The typical recommended dosage is 20-40 mg per day taken in one or two divided doses for 5 years.
Always measure the liquid medicine with the dose-measuring device provided. Never use a spoon.
The storage of the medicine needs to be at room temperature
Never double the dose even in event of a missed dose. You can take the missed dose when you remember or skip it and take the next scheduled dose.
How is Tamoxifen available?
Tamoxifen can be available in the market in the form of tablets or oral solutions. The common brand names under which Tamoxifen is sold are listed below.
Tamodex from Biochem Pharmaceutical Industries,
Cytotam from Cipla Ltd,
Caditam from Cadila Pharmaceuticals,
Nolvadex from AstraZeneca.
Adverse effects of Tamoxifen
Like all drugs, Tamoxifen has side effects. The doctor weighs the benefits over the side effects and prescribes the medicine. The common side effects are listed below. These side effects do not need particular medical attention and tend to get better with time. Although it is best to discuss all the side effects, you experience with your doctor on your visits.
Common side effects
Hot flashes
Vaginal dryness and vaginal discharge.
Fatigue
Headaches
Nausea
Erectile dysfunction,
skin rashes
Leg swelling
Weight gain
Menstrual irregularities
Edema
Severe side effects of Tamoxifen are rare but they may include the following
Clotting of blood
deep vein Thrombosis
Stroke
Endometrial cancer
Seek emergency medical help if you get any severe side effects or experience allergic reactions like hives, swelling of body parts, or difficulty breathing.
Precautions and warnings before taking Tamoxifen
Inform your doctor about any allergies you may have especially if you have a known allergy to Tamoxifen. Tell the doctor about your family history of hereditary diseases and other medical conditions. Several drugs interact with Tamoxifen, let your doctor know of all the drugs and medicines you may be on and routinely consume.
The doctor must make sure that tamoxifen is safe for you. Inform the doctor if you have any of the following
Liver disease
High triglycerides
Cataracts
On chemotherapy
Have problems with blood clots
Tamoxifen should not be taken during pregnancy as it may cause birth defects. Breastfeeding is not recommended with Tamoxifen as it can cause harmful effects on the baby. Keep your appointments with your doctor and follow all instructions carefully.
How to know if Tamoxifen is the correct drug for you?
MEDNAwise Pharmacogenetic test is the perfect tool to know if, Tamoxifen is safe for you. MEDNAwise studies your genes and predicts your response to 70+ drugs in varied medical specialties, including Tamoxifen. Ever wondered why some drugs suit you and some do not? In some cases, why a drug may suit you but not your family member? Well, the answer lies in the genes. Genes are what make you unique. These genes are also responsible for your body's reaction to the drugs you take. MEDNAwise pharmacogenetic test helps to know your specific response to specific drugs. It is a diagnostic tool that helps in precision and personalized medicine. This helps your doctor eliminate the trial-and-error method and prescribe the most effective drug for you. The chances of therapeutic failure are reduced. With MEDNAwise tests, doctors can also know the risk of adverse drug reactions. That helps the doctor to alter or change the drugs and doses.
MEDNAWise is a simple saliva swab test, easy to do, and can be taken from anywhere. Once the results are out, the counsellors help you understand the results and chalk out a future course of action. The best part is that you can use the results again and again for any future medical needs as MEDNAwise pharmacogenetic testing needs to be done only once. A critical test for everyone MEDNAwise allows the doctor to determine the correct medicine, correct dose, and the correct treatment to suit your unique self. Cancer patients need support and love from their near and dear ones. Another vital thing they need is, correct drugs and treatment at the right time. With the MEDNAwise test, doctors can achieve that and provide the best and fastest treatment. Precision medicine is the new pathway to healthcare. Call Indus Health Plus today and get yourself the MEDNAwise pharmacogenetic testing kit today!
Why Choose Indus Health Plus?