Is Tropisetron an Effective Drug For You?
Cancer is said to be the second leading cause of death around the world. Although the survival rates are increasing and treatment has made life easier, there are always problems associated with cancer. Nausea and vomiting are common side-effects of certain treatments, done in cancer therapy. Some drugs are specially given to prevent these unwanted effects and provide relief to the patients. Tropisetron is one such drug, that is beneficial to prevent nausea and vomiting caused by cancer treatment. It is mainly used as an antiemetic. Tropisetron has proved to be useful to prevent nausea and vomiting after surgery.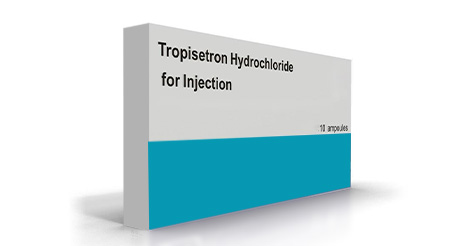 Understanding Tropisetron
· Tropisetron is a potent and selective serotonin receptor antagonist. It acts by blocking the action of the chemical serotonin, which binds to certain nerves and may trigger nausea and vomiting. Blocking serotonin helps reduce nausea and vomiting.
· Tropisetron is similar to other 5-HT3 receptor antagonists used for the prevention of chemotherapy-induced nausea and vomiting in both adults and children.
· Tropisetron is effective in the suppression of chemotherapy-related nausea or vomiting.
· Tropisetron is used as first-line therapy (combined with a corticosteroid) for the prevention of acute nausea and vomiting in patients treated with moderately to severely emetogenic chemotherapeutic agents.
· This combination is also moderately effective in the prevention of delayed nausea and vomiting.
How is Tropisetron taken?
Tropisetron is clinically more effective in the control of emesis in patients with cancer in advanced stages.
· Tropisetron is recommended as a 2 mg dose given intravenously either as an infusion or as a slow injection (not less than 30 seconds).
· For the prevention of postoperative nausea and vomiting, Tropisetron should be administered shortly before the induction of anaesthesia.
How is Tropisetron available?
It is a prescription-only drug and needs to be taken under the supervision of a doctor. The doctor usually administers the drug on the day of the chemotherapy. Tropisetron comes in 1 milligram (mg), and 2 milligrams (mg) tablets, and the oral solutions come in 5ml or 10ml.
Tropisetron is sold under the following brand names in the market
· Kytril
· Navoban (Novartis Pharma)
The dosage for Tropisetron
For oral dosage forms:
Tropisetron IV is given 30 min before chemotherapy at a dose of 5 mg in Children, with 20 kg body weight and at a dose of 10 mg in that 20 kg.
Precautions to be taken before administration of Tropisetron
· Check with your doctor if severe nausea and vomiting continue after leaving the hospital or cancer treatment centre.
· There are no significant drug interactions found with Tropisetron. Having said that, it is always essential to discuss your medical history and family history with your doctor.
· The doctors need to know all your habits and any other medications you may be consuming, including herbal supplements.
Side effects of Tropisetron
All drugs cause a few adverse side effects, although the efficacy of Tropisetron compares well with the other options available. It is well tolerated by the patients.
A few common side effects are as follows
· The most frequently reported adverse reaction at the 2 mg dose was a headache.
· At the 5 mg dose, constipation and, less frequently, dizziness, fatigue, somnolence, and gastrointestinal disorders, such as abdominal pain, diarrhoea, and anorexia were observed as well.
A rare side effect is a hypotension and transient liver enzyme elevation.
Important to know
· Tropisetron may cause severe allergic reactions, including anaphylaxis.
· Anaphylaxis can be life-threatening and requires immediate medical attention.
· Call your doctor right away if you or your child have a rash; itching; dizziness or light-headedness; trouble breathing; trouble swallowing; or any swelling of your hands, face, or mouth after receiving the medicine.
· Check with your doctor right away if you or your child start to have pain or swelling in your stomach area. These may be signs of a stomach or bowel problem.
· This medicine can cause changes in heart rhythms, such as a condition called QT prolongation.
· It can change the way your heart beats and cause fainting or a few other severe side effects in some patients.
· Consult your doctor right away if you or your child have any symptoms of heart rhythm problems, such as fast, pounding, or uneven heartbeats.
How do you know whether Tropisetron suits you?
With advanced science, you can know beforehand if the drug is suitable for you. Indus health plus has an affordable and comprehensive pharmacogenetic test called MEDNAwise genetic testing. You often see that traditionally doctors prescribe a drug and according to the response from the patient, they alter the dosage or change the drug entirely. It is more of a trial-and-error method to know which drug would bring the most effective results.
Pharmacogenetics testing is routinely becoming the standard in personalized patient care. It is an advantage for patients to be proactive in managing their health. Pharmacogenetics is the study of genes to predict response to drugs. Genes express inherited characteristics and traits. All individuals possess unique genes. Genes are responsible for the response to drugs. With MEDNAwise you can know your genes. Knowing your genes can aid treatment, and finding drug options make medical decisions easy for you and your doctor. You can alter your lifestyle and modify your diet to suit your genes. The boon with MEDNAwise test is that, the doctors know which drugs are best suited for you beforehand. MEDNAWise can tell your specific response to different drugs. The test can predict your genetic response to 70+ drugs used in varied medical specialties, including Tropisetron.
A simple saliva swab test MEDNAwise is easy to take. It is a no blood, no pricking test. The experts at Indus Health Plus extract & analyze your DNA using the latest technology. It is affordable and accessible from the comfort of your home. The genetic counsellors help you understand recommendations based on your results. Take charge and use new technologies and methods.
The stage of genetic solutions in precision medicine has arrived. Indus Health Plus offers next-generation preventive healthcare services. With a belief, that good health grants peace of mind. The MEDNAwise professionals are ready to assist and counsel you. To have a healthy future, sign up for MEDNAwise genetic testing today!
Why Choose Indus Health Plus?