Full Body Checkup Package
Optima - (60 Tests)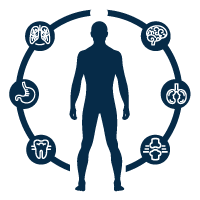 Full body checkup package is a complete and comprehensive plan to analyze your health status thoroughly. 60 tests are included in Indus Health Plus' whole body checkup package to ensure the well-being of each and every organ of human body.
Hectic lifestyle, increasing work stress, eating habits, hereditary diseases and existing ailments defines a need for a complete health checkup. It confirms good health and determines existence of any illness at early stage.
Indus Health Plus offering best whole body checkup packages at the most affordable cost for people above 35 years of age.
Quick Assistance

Test Details - Optima (60 Tests)

Doctor's Counselling (2)
Physical Examination
Counselling by Doctor

Infection Markers (25)
Haemogram
(14 Parameters)
Urine
(Routine & Micro)

Diabetes Marker (2)
Blood Sugar Fasting
Blood Sugar PP

Fitness Markers (1)
Total Body Fat Percentage or BMI

Abdominal Check (1)
Ultrasonography of Abdomen & Pelvis

Heart Status (3)
2D Echo Cardiography (Doppler study of the heart)
Electrocardiogram (ECG)
Chest X-Ray

Kidney Function

(3)
Blood Urea
Uric Acid
Serum Creatinine

Liver Function

(3)
SGPT
SGOT
Serum Bilirubin

Lipid Profile (5)
Cholesterol
LDL & VLDL
Triglycerides
CHO or HDL Ratio

Hepatitis B (1)
Australia Antigen (for Hepatitis B)

Lung Function (1)
Pulmonary (Lungs) Function Test (PFT)

Vitamin Check (2)
Vitamin B12 Test
Vitamin D3 Test


CT Coronary Angiography (1)
Angiography is the X-Ray imaging of blood vessels.

Screening of Neck Vessels (1)
Carotid Bifurcation Screening (Lt & Rt doppler)

Fracture Risk (1)
*Bone Mineral Densitometry Test

Thyroid Profile (3)
Thyroid Profile (TSH)
Thyroid Profile (T3)
Thyroid Profile (T4)

PSA (1)
(for men > 45 years)
Prostate-Specific Antigen blood test for Men


Sono-mammography / Mammography (1)
Sono-mammography (35 to 40 years) / Mammography (above 40 years)
Additional Women's Specific Tests Package Details


Disclaimer : *Medical conditions apply,*Some test are center dependant