Adolescent Checkup Package
For 13 To 18 Years Age Group (39 Tests)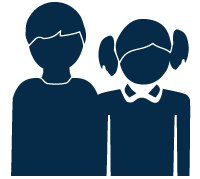 Adolescence is a transition from childhood stage to adulthood stage and hence there is an extensive physical and psychological change in an individual. These adolescents are usually unaware about healthy lifestyle essentials and habits. The adolescent health checkup Package is designed for teenagers thereby encouraging them to live a healthy lifestyle and prevent the unforeseen future illnesses. This teenage health checkup package is very aptly designed to suit the adolescent health needs of the young growing teenagers.
This package is recommended for young people of 13-18 years of age.
Quick Assistance

Test Details - Adolescent Checkup Package
Physical Examination and Consultation
Physical examinations will the basic vital signs like blood pressure, pulse etc.
Consultation will assist the individual to take timely corrective action in case of any disorder, especially communicable diseases.
Hemogram
Hemogram will identify any changes in the blood parameters - esp anemia, eosinophilia, or any other infection markers
Serum Calcium
A blood calcium test is ordered to screen for, diagnose, and monitor a range of conditions relating to the bones, heart, nerves, kidneys, and teeth.
Hypocalcemia is an electrolyte imbalance and is indicated by a low level of calcium in the blood. It is important for normal muscle and nerve function too.
Serum Bilirubin - Total
High levels of bilirubin can lead to jaundice. Jaundice may be caused by liver disease (hepatitis), blood disorders (hemolytic anemia), or blockage of the tubes (bile ducts) that allow bile to pass from the liver to the small intestine.
In such situation, the person is expected to take immediate medical attention.
TSH - Thyroid Stimulating Hormone
A thyroid stimulating hormone (TSH) test is a common blood test used to evaluate how well the thyroid gland is working, diagnose and monitor the treatment of thyroid disorders.
A low thyroid can interfere with normal growth and development and even put puberty on hold. The fatigue it causes can interfere with performance at school and leave kids without enough energy for sports and play, too.
Vitamin B 12
Vitamin B12 does a lot of things for your body. It helps make your DNA, red blood cells and neurological function.
If the deficiency is left untreated, it may result in serious health conditions.
Eye Examination
Children need regular eye exams to detect vision problems that may interfere with learning. Studies show that 60% of students identified as problem learners have undetected vision troubles.
Thus, regular eye examinations are essential for early diagnosis and treatment of any problems that may crop up.
Early detection and treatment can slow down or even reverse the progression of eye disease, viz computer vision syndrome, ,myopia.
Blood Sugar - Fasting
This test measures the blood sugar levels.
Any increase in the sugar levels will prompt to undertake additional/repeat tests to rule out any pre-existing diabetes, effect of any medication or any other organ specific problem.
Chest X-Ray
An imaging test which helps to spot abnormalities or diseases of the airways, blood vessels, bones, heart, and lungs.
It finds out conditions-such as pneumonia, lung cancer, chronic obstructive pulmonary disease (COPD), collapsed lung (pneumothorax), or cystic fibrosis-and monitor treatment for these conditions.
Urine R & M
A urinalysis is used to detect and manage a wide range of disorders, such as urinary tract infections, kidney disease.
It also checks for blood cells, crystals, bacteria, parasites which can cause infection to other members if not treated on time and proper hygiene is not maintained.
Lipid Profile
For children and adolescents, routine lipid testing is recommended by the American Academy of Pediatrics (AAP) in all children once between the ages of 9 and 11 and again between 17 and 21.
Some of the risk factors are similar to those in adults and include a family history of heart disease or health problems such as diabetes, high blood pressure, or being overweight.
This test is done to assess the risk of developing cardiovascular disease (CVD); and to monitor treatment if required.