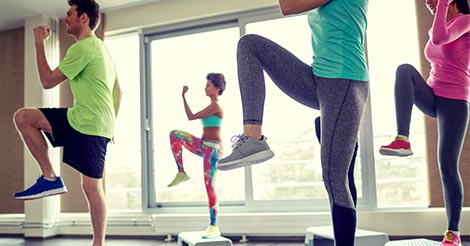 The competitive corporate job is forcing the employees to work beyond the manageable hours, which are causing stress, anxiety, and a number of diseases directly or indirectly. Out of 34.4% deaths that occur due to non-communicable diseases in India, cancer, diabetes and cardiovascular diseases alone cause around 80% deaths. With such stats, the companies in India have already realized that in the longer run, the unhealthy workforce is going to create many problems for the company's performance.
The organizations like Indus Health Care have a solution like corporate health checkup or wellness programs for such problems. We offer specially designed healthcare packages, which can help the companies to ensure that the employees, as well as the management, have the best health. In order to improve the lifestyle, a good exercise regimen is important.
Aerobics sessions arranged by Indus Health Care are organized under the supervision of well-trained aerobics experts who take care of every individual in the session. These sessions can be organized as per the requirement of the company based on the number of employees, available hours and other factors.
The benefits of aerobics sessions are more than you expect. These sessions not only act as stress busters but also help to increase flexibility, improve postures and reduce toxins in the body. These sessions assist the employees to get rid of the stress and relax with the help of the exercise. The more they indulge themselves in these sessions, the better productivity can be expected in coming future.
The aerobics sessions can be arranged daily, once in two days or on weekends as per the company's requirement. These sessions can be arranged on and off the campus depending on the strength of the employees and available space.
Do Contact Us for Pre-employment Health Checkup, Employee Medical Check up, Occupational Health Check Benefits for Employers & Employees and we can help you with a completely customized package.