Breast cancer is one of the biggest killer diseases in women. As per a WHO report, 65 % cases in India are diagnosed only when they reach stage III or IV -an advanced stage of the disease.
Cancer stages are usually expressed as a number on a scale of 0 through IV, stage 0 being the starting, non-invasive types that remain within their original location and stage IV being the invasive ones that spread outside the breast to other parts of the body.
Have a look at the comparison of modalities of treatment, survival rate & cost of treatment in various stages of breast cancer.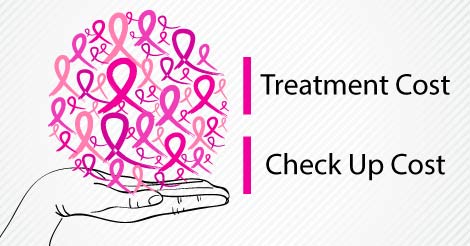 Stages
Treatment
5-year Relative

---

Survival Rate
Cost of Treatment*
Cost of Preventive Checkup
Stage 0
Total removal of breast or lumpectomy, radiation rarely needed,chemotherapy usually not required
100%
Rs. 1, 00, 000
or more
Full Body Checkup
(Sonomammography + 59 other tests)- 21,499/-
Stage 1
Total Mastectomy or lumpectomy, radiation rarely needed,Chemotherapy sometimes to reduce risk of recurrence
100%
Rs. 1, 00, 000
or more
Stage 2
Total Mastectomy (Radiation may be needed) or lumpectomy plus radiation, chemotherapy commonly recommended
93%
Rs. 1, 50, 000
or more
Stage 3
Total Mastectomy (Radiation may be needed) or lumpectomy plus radiation, almost always recommended
72%
Rs. 1, 50, 000
or more
Stage 4
Total Mastectomy, radiation, or both may be used, Chemotherapy almost always recommended
22%
Rs. 3, 00, 000
or above
Prevention is Better than Cure
A simple, regular preventive health checkup can save a person from all the trauma, physical pain, mental agony and huge financial setback; and that too at a very low cost.
Experts believe that at Stage 1, breast cancer is definitely curable and at Stage 2, it is highly manageable. However due to poor utilization and lack of awareness of preventive healthcare, most patients do not undergo relevant tests regularly, till the symptoms began to appear prominently and they reach stage 3 or 4, a difficult phase to treat.
Stay a Step Ahead of Breast Cancer
Prevention starts at detection
Having yearly health checkup, which include specific cancer screening tests should be undertaken
Women above 40 should go for annual sono-mamography tests
Women should do monthly self-examination of breast and look for any physical abnormalities, growth or discharge
Resort to a healthy diet with fresh fruits, vegetables and pulses
Tobacco and alcohol usage have been seen as a leading cause of cancer amongst many
Cut down on smoking completely, and curb alcohol intake to bare
Along with screening for breast cancer, get yourself checked for other abnormalities as well; go for comprehensive checkups available at Indus Health Plus, the Preventive Healthcare Specialist at most reasonable prices, reliable reports & excellent customer care.
Reference: Survival Rate- www.cancer.org
*Cost in the table is only indicative and can vary from hospital to hospital.
Stay active, make healthy food choices and being proactive towards body, is way to adapt a healthy living. Be pro-active towards body by getting yourself health checks at a regular interval. As it is said "Preventive measure is better than curative measures".
Know broad overview of your health status by the comprehensive health checkup packages provided by Indus Health Plus, a preventive health check up specialist.
To know more about us, health check up details, packages, share a thought, tips for healthy living, query and suggestion fill the form and we will get back at you at earliest.
Healthy body and mind, breeds a happy life.