Gifting has always been tricky. We usually fell short of ideas whenever an event comes by. Well, not anymore. Now, with health and wellness being a huge market and people getting so health conscious, there is no dearth of healthy gifting options.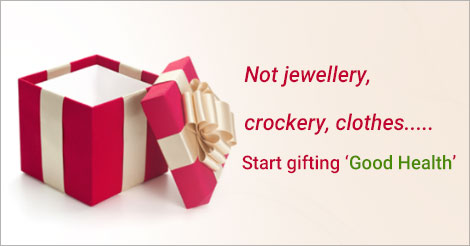 Preventive health check up package
The best gift that one can ever give to someone for whom he really cares is a preventive health check up package. So, to "nip the evil in the bud", get your loved ones periodically checked to see if their body and various systems are doing fine or they need some medical attention.
We, at Indus Health Plus offer several comprehensive packages that you can give as a gift to someone and ensure their good health.
Exercise DVDs
Now a day's quite a few celebrities are coming up with their own exercise DVDs, which gives the viewers liberty to work out in the comforts of their homes, if they can't or don't want to go to a gym. This is an ideal gift for a stay-at-home mom of a small baby or for anyone who always are full of excuses for having no time to hit the gym.
Useful medical devices
Glucometer, a blood sugar monitor or a digital BP machine can come in very handy for someone already suffering from diabetes or high blood pressure. For regular monitoring, these home use devices can be used by everyone very conveniently.
Spa vouchers
This is one gift that will be unanimously liked by all. A relaxing spa treatment will definitely rejuvenate the person and will make him get rid of all the stress from his regular and mundane routine life.
A fruit basket
No more mithai dabbas or huge bars of milk chocolates anymore for gifting. Put together an assortment of some fresh, seasonal and exotic fruits in a nice decorative basket. Cover it with a clear cling film and for that extra little touch of funk stick a huge bow over it.
Voila! A healthy gift is there to be given.
Yoga mat
Yoga mats are a great gift for people who work out or do yoga and are available in a variety of colours, thicknesses and price. These can be used for any floor exercises besides yoga. With one's vey own mat, there are fewer chances of picking an infection from the common mats that are available in gyms. Additionally, the pop colour mats add fun to the whole exercise routine.
Workout bag:
Anyone who goes to work out needs a nice and sturdy workout bag. Select the colour and size of the bag keeping in mind the taste of the person you are buying it for. If the budget permits, you can fill it up with things like a sporty water bottle, hand towels, deodorant, wrist and hair bands and shower gels.
So next time you are on a lookout for gifts, skip those boring old crockery, lamps and show pieces. Set a new trend and gift some good health!
Gift your loved ones a preventive health checkup and safe guard their 'health & happiness'.
Gifting preventive health checkup packages, spa vouchers, etc. can be an innovative gift, which encourages the person to take a useful healthy initiative. Try to replace the traditional gifts with some creative, trendy and beneficial gift ideas. It can be an ideal gift to anyone - parents, spouse, kids, friends, employees or colleagues. A regular health checkup helps you to understand the health status and take the necessary steps immediately saving stress, pain and expenses in the future. Opt for family health checkup packages and make it a family tradition. Fill up the form and our experts will get back to you.