When there is a gradual decrease in the functional capacity of the kidney, it leads to chronic kidney disease. There are no early symptoms of this disease but once it gets worse, it can create complications like high blood pressure, anemia or nerve damage. The number of people suffering from chronic kidney disease has doubled in the last 15 years in India. Today, nearly 17 in every 100 Indians face kidney problem.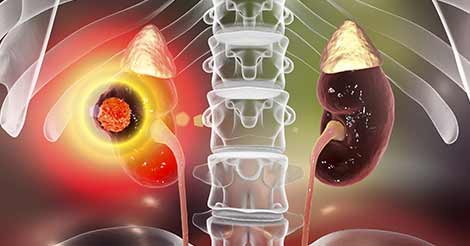 What is Chronic Kidney Disease?
When the chronic kidney disease reaches an advanced stage, dangerous levels of fluids and electrolytes are accumulated in the body. The most important and dangerous factor is that, the kidney disease does not show any major symptoms until the kidney is significantly damaged. The worst-case scenario in this health condition is kidney failure where you have to look for a kidney transplant. So how can you identify chronic kidney disease (CKD)?
Symptoms of Chronic Kidney Disease
Though it is difficult to identify CKD as its symptoms develop over the period, you should be careful if you any of the below conditions -
Nausea, vomiting, fatigue
Sleep issues, decreased appetite
Constant itching
Decreased mental sharpness
Chest pain, shortness of breath
Swelling of feet, ankle, cramps
As these signs are non-specific, they can be symptoms of other diseases too. Our Kidney is highly adaptable so it compensates for the lost function. That is why one needs to understand the truth about chronic kidney disease.
Facts about Chronic Kidney Disease
Early diagnosis of chronc kidney diseases can help you prevent the progression of this disease.
It is a global health crisis as 10% of the population suffers from CKD.
In most cases, CKD leads to heart disease, which can prove fatal.
Never ignore the symptoms, see you doctor immediately to take timely medical advice.
Causes of Chronic Kidney Diseases
In almost 67% of cases, high blood pressure and diabetes have been the prominent reason for CKD. Following conditions are also responsible for CKD
Repeated urinary infection
Kidney stones, tumor-causing obstruction to the urinary system
Polycystic kidney disease
Glomerulonephritis which is an inflammation of kidney's filtering unit
If the proper treatment is not started, it could lead to complications. There are five stages of CKD let us see.
Stages of Chronic Kidney Disease
Glomerular filtration rate (GFR) is used to measure the stages of CKD.
Stage 1: normal or high GFR (GFR>90 mL/min
Stage 2: Mild CKD with GFR=60-89 mL/min
Stage 3A: Moderate CKD GFR=45-69 mL/min
Stage 3B: Moderate CKD GFR=30-44 mL/min
Stage 4: Severe CKD GFR 15-29 mL/min
Stage 5: End stage with GFR<15 mL/min
Though it is a serious disease, we can prevent it with proper care and precautions.
Prevention from Chronic Kidney Diseases
Stay away from smoking; it damages the kidneys and the heart.
Maintain a healthy weight. If you have a balanced weight, then it can prevent most of the diseases.
Opt for a preventive health checkup at regular intervals. It gives you the health status, which helps you to get timely medical intervention before the disease, gets serious.
Chronic kidney disease is really a difficult disease, which could lead to some serious health complications. With the help of a Master Health checkup, you can monitor your health condition. Fill up the query form below and get to know more about the appropriate health checkup you should choose.