Back pain is the commonest reason for absenteeism from work. According to a research, lower back pain accounts for 1 in 3 of the work-related health issues. Almost 9.4% suffer from low back pain across the world. In an analysis, musculoskeletal disorders like upper back pain, lower back pain, neck pain and arthritis have been ranked among the top 10 contributors of disability.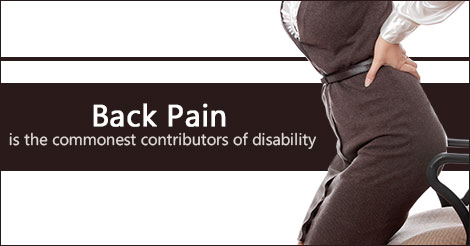 Causes of Back Pain
Let's discuss the causes of back pain:
The combination of demanding targets with long working hours with the vigorous demands of household chores takes a toll on woman's health. Women generally have a habit of ignoring their own health or their health issues. So, when a symptom like back pain is ignored for a long time then it is converted to chronic back pain.
Also, it is a fact that women of the age group 35 years and above are subject to the early degenerative changes. These degenerative changes lead to pain as the bones get weak and brittle. The back pain could be because of the strained muscles or the weak bones.
The question here is how do we understand that our bones are brittle? We should actually make an effort of going in for regular health checkup with a bone densitometry test to find out about our bone status.
Chronic Pain Prevention
Let us now understand the simple ways to prevent of chronic pain:
Exercise/Staying active
Eat right
Maintain a proper posture
Reduce stress
Go for a regular preventive health checkup
Pain Management
Chronic back pain treatment can be classified into 2 categories such as Non-invasive and Invasive methods.
Patients generally prefer the Non-invasive pain management which includes the following:
Pain medications
Exercise
Hot and cold packs
Transcutaneous Electrical Nerve Stimulation (TENS)
All these chronic back pain symptoms are preventable. However, with the inherent trait of ignorance about their own health associated with the busy lifestyle, women tend to ignore the problem till it gets worse.
We recommend you to know your complete health status; by choosing an exclusive full body checkup package designed and facilitated by Indus Health Plus, the preventive health checkup specialist.
In case of any doubts, concerns, or even for receiving health tips you can simply fill the query form and we will get back to you as soon as possible.