Kerala - Health Statistics
Literacy rate: 93.91% (Census 2011)
14% of all deaths in Kerala are caused by coronary heart disease (CHD/CAD)
In Kerala, the prevalence of lifestyle diseases like diabetes, heart disease, high blood pressure and obesity is high and it result in very high mortality and morbidity from malignant heart disease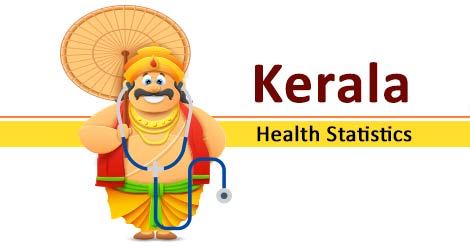 Population: 35,477,925 (Census 2016)
Life expectancy at birth: 74.6 years (Census 2011)
In Kerala mortality rates for CAD (coronary artery disease), per 100,000 are 382 for men and 128 for women which is actually 3 to 6 times higher than Japanese and rural Chinese and also higher than other industrialized countries.
Approximately 60% of CAD deaths in men and 40% of CAD deaths in women occur before the age of 65 years that is at very young age as CAD in Kerala is premature and malignant
In the 1960s and 70s, heart attack in the very young i.e. before the age of 40 was very uncommon in Kerala. Heart attack rate among men in this age group increased 40-fold by 1990 with at least 20% heart attacks occurring before age 40 and 50% before age 50.
The high rates of premature heart disease in Kerala also results in a high economic burden as high as 20% of its state domestic product.
There are more than 60% of the high income and more than 80% of low income people who hospitalized for heart attack, results in catastrophic health spending with 50% of these requiring distresses financing in Kerala.
As the state named as ubiquitous coconut, prevalence of heart disease in rural Kerala is 7%, which is nearly double that of north India and parallel the high levels of cholesterol.
The prevalence of risk factors is high even in rural Kerala: diabetes 20%, high blood pressure 42%, high cholesterol (>200mg/dl) 72%, smoking (42% in men) and obesity (body mass index >25) 40%, physical inactivity 41%, unhealthy alcohol consumption 13%.
The Prevalence of premature CAD in Kerala is because of increasing modifiable risk factors related to lifestyle in teenagers. The contributing factors are high consumption of alcohol, unhealthy diet along with very high intake of saturated fat as part and parcel of cultural, lack of physical activity, sedentary lifestyle and air-pollution
As per cancer registry data, in Kerala there are 974 female cancer and 913 male cancer patients per million.
In one year, Kerala has roughly 35,000 new cancer cases occurs. In this 50% of cancers are in the throat, mouth and lungs in male & 15% in women caused by tobacco and alcohol habits. Actually in Kerala overall tobacco is responsible for 50% and diet for 10-20% of cancers.
Breast cancer is the most common malignancy among the women in Kerala; about 30 to 35% is accounted by breast cancer.
According to the data available with the Thiruvananthapuram Cancer Registry, the prevalence rate in rural areas is 19.8 per 100,000, while in the urban areas, it is 30.5 per 100,000.
Because of the Kerala population eat more meat than rest of the Indian population so the incidence of colorectal cancer in Kerala is about 5.5/ 100,000. Also it leads to increased risk for large bowel cancer.
Also, the incidence of thyroid and ovarian cancers is up among women in Kerala.
Prostate cancer, the most common malignancy among men worldwide, is among the 10 leading cancers in Kerala.
Kerala is known as diabetes capital of India as prevalence of diabetes is high i.e. 20% which is double the national average of 8%. As compared, the prevalence in Thiruvananthapuram was 17%, in Hyderabad & New Delhi 15%, in Nagpur 4% and in Dibrugarh 3%.
Cardiovascular disease is the foremost killer of people with diabetes. 80% of diabetic patients die from heart disease.
Only 40% of people with diabetes had adequate control of blood sugar. Among those with diagnosed diabetes, 17% received no treatment, 15% were on diet alone, and 68% were on medications.
In Kerala, as compared to urban dwellers people from rural Kerala, paradoxically having higher rates of diabetes. In one large study the prevalence of diabetes was 19% in rural men and 22% in rural women compared to 12% in urban men and 17% in urban women.
People from Kerala have the highest cholesterol level in India that ranges from 197 to 229mg/dl compared to 157 to 180mg/dl nationally.
In Kerala, Virtually every dish including vegetables, fish and even meat and bread are prepared by coconut, meat, milk and oil. So total fat intake in Kerala is 30% of the energy with 70% of that (20% of daily energy) coming from saturated fat.
References:
All-Cause Mortality and Cardiovascular Mortality in Kerala State of India: Results from a 5-Year Follow-up of 161 942 Rural Community Dwelling Adults. Asia Pac J Public Health. May 10 2010.
Verbal autopsy of 80,000 adult deaths in Tamilnadu, South India. BMC Public Health. Oct 15 2004
Acute myocardial infarction in north Kerala-a 20 year hospital based study. Indian heart journal. 1991
Decline in coronary heart disease mortality in Finland: Effect of age and gender distribution on the disease. Am. J. Ger. Cardiol. 1994
Risk factor profile of patients with acute MI
Cardiovascular Disease Prevention: Trivandrum; 1996
Hospital data on coronary heart disease from North Kerala
How to Beat the Heart Disease Epidemic among South Asians: A Prevention and Management Guide for Asian Indians and their Doctors. Downers Grove: Advanced Heart Lipid Clinic; 2005
Risk factor profile for chronic non-communicable diseases: results of a community-based study in Kerala, India. Indian J Med Res. Jan 2010
Surveillance of cardiovascular disease risk factors in India: the need & scope. Indian J Med Res. Nov 2010
Cohort Profile: The PROLIFE study in Kerala, India. Int J Epidemiol. Sep 8 2009
High risk for coronary heart disease in Thiruvananthapuram City: A study of serum lipids and other risk factors. Indian Heart J. 2000
Behavioral risk factors for non-communicable diseases among adults in Kerala, India. Indian J Med Res. Jun 2008
A regular health checkup is something one shouldn't avoid. It will help you to understand the current status of the body so that you can get proper medication. In Kerala, heart diseases have been the reason behind 14 % deaths as it can be avoided with preventive health checkup. Indus Health Plus offers the Essential Heart Checkup where the necessary tests regarding hearts will be performed. With this checkup, you can regulate your health. If you are looking for further information, fill up the form and get in touch with us. Our team will clear all the doubts regarding the preventive health checkup.