According to a study published in the Lancet, projections indicate that by 2030 NCDs will account for almost 75% of all deaths in India and the years of life lost due to coronary heart disease will be greater in that country than in China, the Russian Federation and the United States of America combined.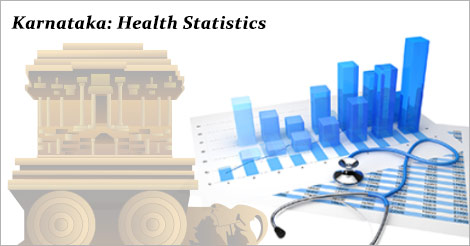 Population: 61,130,704 (Census 2011)
Life expectancy at birth: 65.3 (Census 2011)
Literacy rate: 75.60% (Census 2011)
The latest statistics from the health ministry shows that the lifestyle diseases are rampant in Bangalore and Chennai. In Bangalore, 14% and 21% people are suffering from diabetes and high blood pressure.
A report of 2006 showed 1,03,000 bypass surgeries were carried out in Karnataka. In India Cardiovascular mortality is likely to rise by 103 % in men and 110 % in women during the period of 1985 -2015 and the cardiovascular disease will be the greatest killer by the year 2020.
In 2005, from a total of 23,312 available death records at Bangalore Mahanagara Palike, 1,690 (7.5%) deaths could be categorized as probably due to stroke
In a case study carried out in 2006 in Bangalore, out of 1,174 cases 18% of all stroke patients were below 40 years of age.
A greater prevalence was seen among men (67%) with a male to female ratio of 2:1. Higher proportion of women below 30 year was due to cortical venous thrombosis (CVT).
13% reported a previous history of stroke, 48% were hypertensive, 23% reported to be diabetic, 33% used tobacco and 25% consumed alcohol. Nearly 1 in 5 patients had both hypertension and diabetes (18.5%).
A family history of stroke was reported by 7.3% of patients. While 23% did not have any risk factor, 29% had one risk factor and 30.0 and 11.6%, had 3 or more than 3 risk factors, respectively.
A study carried out by Department of Community Medicine, Bio-statistics, Kasturba Medical College revealed that in 2006, the overall prevalence of diabetes in coastal Karnataka was 16%.
In 2000, The prevalence of impaired glucose tolerance (IGT) was 16.8% in Chennai, 14.9% in Bangalore, 29.8% in Hyderabad, 10% in Kolkata, 10.8% in Mumbai and 8.6% in New Delhi.
A recent population-based cancer registry data of the Indian Council of Medical Research (ICMR) shows that Bangalore has 113 male and 139 female cancer patients per 100,000.
The Cancer Atlas published by the ICMR indicates that thyroid cancer is more prevalent in the coastal areas of Karnataka and Kerala.
According to ICMR statistics breast cancer figure in Bangalore has increased from 16 in 1998 to 34.1 per 100,000 in 2008.
In the hospital based cancer registries (HBCRs), cancer of the cervix is the leading site of cancer in Bangalore and Chennai.
In a study carried out by Centre for Survey Research & Management Services, the two major risk factors observed among males were smoking and alcohol consumption. About two fifths (40%) of them were current smokers as well as current users of alcohol (41%).
The median age at initiation was 21 year for both smoking habits and for alcohol consumption. Nearly a quarter of the target population were inactive (23% males and 22% females) based on work and leisure time activities. More than one-fifth of them (23%) reported stress.
Obesity was found more among females (33%) than males (17%). Low socio-economic background was found to be a high predictor (high risk group) for habit of smoking, alcohol consumption, stress and unhealthy diet.
As many as 3 crore Indians are overweight, and obesity continues rise, says statistics revealed by the National Family Health Survey (NFHS). Around 20% of school-going children are overweight.
In Bangalore obesity is reaching epidemic proportions, with around 25% of city children between the age group of four to 12, suffering from obesity.
References:
Behavioural risk factors for non-communicable diseases among adults in Kerala, India - Centre for Survey Research & Management Services, Kochi & Health Action by people Thiruvananthapuram, India
The Cancer Atlas - Indian Council of Medical Research (ICMR)
Current information on the use and harm from alcohol in the South East Asia Region
Feasibility study of stroke surveillance: Data from Bangalore, India
A study on the prevalence of Type 2 diabetes in coastal Karnataka - Department of community medicine, Kasturba Medical College
Report of the Working Group on Disease Burden for 12th Five Year Plan (Non-Communicable Diseases) - Govt. of India, Planning Commission
The Diabetes Atlas of India - Madras Diabetes Research Foundation, Chennai
Prevention and control of Non-communicable Diseases: status and strategies - ICRIER
A healthy lifestyle is a key to a happy life; hence, we must take the necessary steps to make our lives healthier. Preventive health checkups help you keep track of your health and notify when something is not right so that you can respond appropriately. With the help of a Preventive health checkup by Indus Health Plus, you will get a detailed review of your body.