What is Health
We all know that health is wealth! So, what exactly can be termed as health?
WHO has defined health as "a state of complete physical, mental, and social well-being and not just an absence of a disease."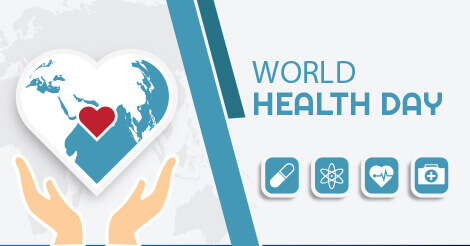 World Health Day
World Health Organization was founded on 7th April 1948; World Health Day is celebrated on account of the same. The World Health Day provides us with an opportunity to provide awareness and prevention of some important health issues like communicable and non-communicable diseases. Out of which non-communicable diseases (NCDs) are a leading cause of deaths.
WHO Facts on Non-Communicable Diseases (NCDs)
Some important facts by WHO on NCDs are:
There are 16 million deaths related to NCD that occur before the age of 70.
NCDs are responsible for 38 million deaths annually.
Annually, the following 4 diseases account for 82% of all NCD deaths:

Cardiovascular diseases account for 17.5 million deaths
Cancers account for 8.2 million deaths
Respiratory diseases account for 4 million deaths
Diabetes account for 1.5 million deaths

Lifestyle diseases as a result of physical inactivity, unhealthy diets and harmful use of tobacco and alcohol are also causing increasing impact on our health. Some lifestyle diseases include heart disease, atherosclerosis, obesity, type 2 diabetes; and diseases as a result of smoking, alcohol and drug abuse.
The NCDs have a huge impact on global health. Another condition that is important and needs to be addressed is mental health. For this WHO is leading the World Health Day campaign with the theme of Depression - Let's Talk!
World Health Day Campaign - Depression: Let's Talk
The theme of World Health Day campaign 2017 is depression. This year's campaign slogan is - Depression: Let's Talk. Let's get to know a little bit more about depression.
Why Depression is a Major Health Issue?
Over 300 million people suffer from depression around the world, out of which less than 10% receive effective treatment. If depression is left untreated it could lead to suicidal tendencies. Approximately 800 000 people commit suicide and die every year. Suicide is the 2nd leading cause of death in 15 - 29 years age group.
Symptoms of Depression
Depression symptoms can be broadly classified into the 2 types:
Physical Symptoms
No sleep or too much sleep
Fatigue
Appetite disorders
Weight issues - weight gain/weight loss
Difficulty in concentrating/decision making
Psychological Symptoms
Extreme irritability over petty things
Anxiousness
Restlessness
Anger management issues
Losing interest even in the favorite activities
Fixation on the past incidents that have gone wrong
Suicidal thoughts
Importance of Prevention
Now that we have discussed on all the NCDs and depression which have a serious impact on our health; be it on our body or on our mind; let's discuss on how we can tackle them.
Prevention is better than cure. Prevention does not mean just consuming healthy food and exercising; it also includes health screening for keeping a check on your health status. Hence, a preventive health checkup serves to be an advantage for preventing almost any condition. Any disease, when diagnosed at an early stage, can be treated effectively and completely.
To get a complete insight on your health, you should opt for a medical health checkup. Indus Health Plus, the preventive specialist offers you an economical opportunity to be healthy.