Healthy Summer Diet
Come summer and you begin to become restless. The heat hampers a lot of your work and affects your eating habits as well. With temperature soaring only upwards you feel dehydrated and low on energy and your body constantly looks out for ways to cool it. In all this summer diet has an important role to play. Here are some summer diet tips for you to keep the body cool and energy levels high.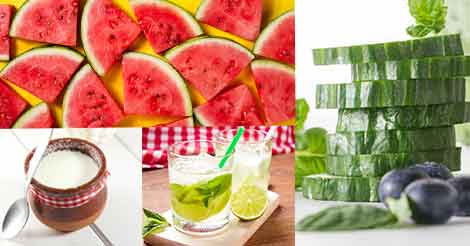 Curd or Yogurt
Curd is a wonderful coolant. You can be consumed in various forms like as refreshing buttermilk, a glass of lassi or in the form of raita along with the meal. To make yummy desserts out of it, hang it in a muslin cloth to drain excess water and add cut fruits and little sugar.
Coconut Water
Coconut is full of health benefits and has amazing cooling properties. It is loaded with simple sugars, electrolytes and minerals which help keep the body in keeping well hydrated and nourished.
Watermelon & Melons
These are fruits where which is full of water. They are very cool in nature and fill you up without giving a heavy feeling in the stomach. Just refrain from not eating these fruits which are pre-cut and sold on the road side as they may carry risk of infection.
Cucumber
This salad vegetable is full of fibre and water and hence will keep you hydrated and help in keeping constipation at bay. Add lots of it in your salads or eat them just like that during the day when you feel like munching something. Sprinkled with light salt, pepper and lime, it is a good substitute for anytime summer snack.
Mint
Mint is an easily available and an inexpensive herb which you can be used in chutneys, raitas, dips and making refreshing cooling drinks. Because of its refreshing and cool taste, it is a staple in several summer condiments.
Onions
Onions have incredible cooling properties. They already are a must have in our curries, raitas, salads and chutneys, which will help in keeping the body cool. Onions can also provide protection against sunstroke.
Lime water
Good old nimbu paani or fresh lime is high on freshness quotient and an all time favourite healthy summer drink. You can have it salted or sweet with a dash of cumin powder and mint to beat the heat. Try these summer diet and nutrition tips and stay cool in summer.
To live healthy & happy, one must keep a check on the body's functioning by going for regular health checkups. This helps in assessing risk factors and diagnosing diseases at an early stage, which will result in effective treatment and better management of the condition.
To share a good word, clear any doubts, resolve concerns, receive health tips or to extend a suggestion, fill the query form and we will get in touch with you soon.
Stay healthy & happy!