The major cause of skin cancer is over exposure to sun (UV rays). The cancer commonly develops on the area of the sun-exposed skin. The cancer can be detect easily as the effects are easily visible on the skin.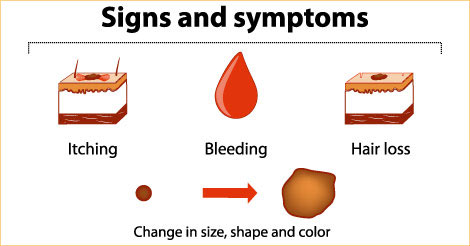 This article contains some useful information about various signs of skin cancer including the skin cancer early signs.
Skin Cancer Symptoms
The cancer has several different types and the symptoms of the disease vary with types. Some of these are skin cancer warning signs and one can alert himself/herself be proactive and get proper medical consultation.
Basal cell carcinoma symptoms
This kind of cancer starts in the basal cells, which are found in the outermost layer of the skin. Symptoms for this cancer are:
A pearly or transparent bump appears on the outermost layer of the skin
A flat, red-colored or brown colored cut or scratch kind of mark on the skin
Squamous cell carcinoma symptoms
This kind of cancer usually develops in the damaged sunburned area. Symptoms of Squamous cell carcinoma are:
A scaly, firm, knot like bump on the skin
A flat, scaly scratch that can bleed sometimes
Melanoma signs and symptoms
Skin cancer can be developed on any part of the skin, normal skin or a mole can turn into a cancer. The symptoms of this cancer are:
A brown colored spot with dark patches
A mole that sometimes changes its color or size, and sometimes bleed too.
A small scratch on the skin with an uncommon border, can appear red or white or blue-black.
Dark cuts/scratch on the palms, soles, fingertips or toes, or on mucous membranes lining your mouth, nose, vagina or anus
Being aware of the skin cancer early symptoms and signs help you being proactive and be alert before situation worsens.
Skin cancers generally start as changes to the skin. The cure rate for these cancers is quite high. However, it is crucial that you check your skin regularly. If the skin cancers are found at an early stage, these can be effectively treated, so knowing the signs and symptoms and what to look for is paramount. It is best to have master health checkups as experts from the health care sector can detect the signs and symptoms easily. Choose a reputed health care service provider like Indus Health plus and live a stress-free life. Get in touch with us by filling up the simple form.