Some changes in the lifestyle can help a person to fight dangerous diseases like melanoma cancer. Staying away from the risk factors, eating a healthy diet and following a healthy lifestyle can bring down the risk of getting not only this cancer but several other diseases.
The article here provides information about the skin cancer awareness, its effects and some facts.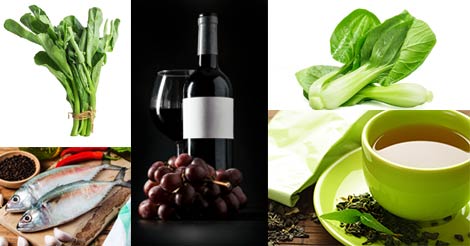 Skin Cancer Diet
Eat more green vegetables

To prevent cancers, this particular skin cancer and to stay strong during the treatment of skin cancer, one must include lots of fresh fruits like orange and green vegetables in the meal.

Include fish in your meals

To keep the skin healthy, eating fish is the best way, as the oil found in the fish increases the protection against melanoma (a dark-pigmented tumor associate with the skin). Consumption of fish at least twice a week is suggested by the specialists.

Red wine

Red wine is also a good choice to include in the menu. In a study conducted by researches, people who consume wine at daily basis reduce their risk of getting cancer.

Green tea

Consumption of green tea reduces the risk of developing skin cancer. Catechins (a compound found in green tea) are found to be highly effective in protecting the cells from damaging its DNA.

Avoid excess protein

Diets rich in protein force pancreatic enzymes to focus on the digestion of protein instead of dealing with cancer.
Skin Cancer Facts
Some facts to increase skin cancer awareness:
The chances of successfully treating skin cancer which is found in early stage are up to 90%.
The percentage of people suffering from skin cancer is higher than all other cancers combined.
The most common skin cancer is basal cell carcinoma.
The incident rate of skin cancer in India and the sub-continents of India are low because of the protective effects of melanin (naturally occurring dark pigments on skin, hair, feathers or fur).
People with pale skin have higher risk of getting the cancer than the people with darker skin.
Melanoma cancer is the most dangerous cancer with highest rate of deaths.
The skin cancer survival rate is 91% and 89% for people at all stages of skin cancer (melanoma) to live without the disease for at least 5 or 10 years.
Skin cancer is a serious disease but it can be cured and even avoided with proper diet and being alert about your health. Along with eating right, you should go for master health checkup by Indus Health Plus, which covers overall health checkup. It analyzes your overall health including the hidden changes in your body which you cannot notice easily and can harm your body if not treated on time. For more information, get in touch with us by filling out the form below.