'Women Leadership and Innovation Awards 2014'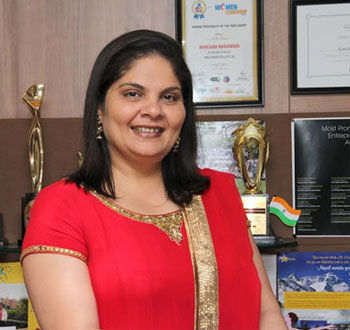 Ms. KanchanNaikawadi, Founder Indus Health Plus was facilitated with the Best Innovator in Healthcare Sector award by Ms. Sharmila Banerjee - Chairperson, IWLF and Ms. Sharon Prabhakar.
IWLF conference and awards recognized and honored the best leaders and innovators in business, government, politics, education, society and individuals who have been remarkably considered as leaders, innovators and most importantly have acted as a change agent as a woman.
Ms. Kanchan Naikawadi, Founder, Indus Health Plus said, "I am honored for being recognized amongst eminent individuals across industries. It is good to see women today making it to the top. As a company we have always strived to inculcate leadership qualities with go getter zeal to achieve more across all levels of our employees."
Ms. Naikawadi believes that women have immense passion towards their work and possess very strong business ideas. Therefore they should not be afraid of taking any risk and pursue their dreams.
A decade ago, Indus Health Plus entered into healthcare segment by introducing preventive healthcare checkups.
Currently, the company has 90centers across 40 cities in 14 states in India, facilitating preventive health package at affordable prices. The company has conducted 4.5 lakh health check-ups in association with reputed healthcare institutions and is planning to extend its further reach in South India.
Source : http://www.healthydunia.com/
Get a Call from Health Advisor