Ms. Kanchan Naikawadi wins WE Awards 2014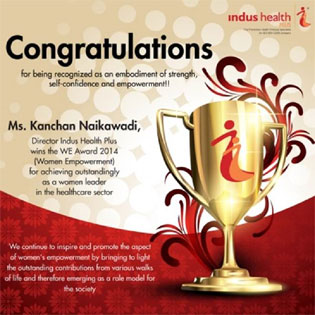 It's a pleasure to share that Ms. Kanchan Naikawadi - Director, Indus Health Plus won the WE Awards, 2014 for Women Leader in Healthcare Sector on 18th April 2014 during a function held in New Delhi.
WE (Women Empowerment) Award is an initiative by WCRC Leaders Asia, a monthly business and leadership magazine published by World Consulting & Research Corporation (WCRC - www.wcrc.co & www.wcrcleaders.com). Ms. Kanchan Naikawadi was awarded as one of the women who inspires and promotes women's empowerment by bringing to light the outstanding contributions from various walks of life and therefore emerging as a role model for the society.
The award was given by Justice Gyan Sudha Mishra, Supreme Court and Mr. Abhimanyu Ghosh, Editor-in-Chief WCRC Leaders Asia Editon.
Ms, Kanchan was recognized as embodiment of strength, self-confidence and empowerment and it is these qualities that WCRC Leaders Asia celebrated during the WE Award.
Heartiest congratulations to her for this latest accomplishment!
Get a Call from Health Advisor