Ms. Kanchan Naikawadi conferred with Women Initiative of the year Award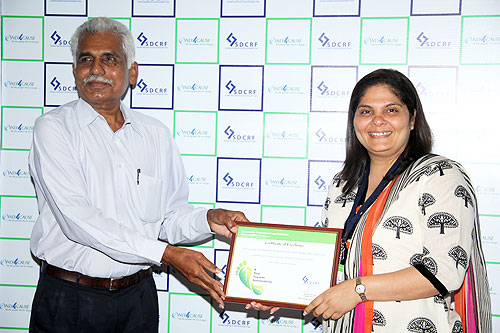 Sustainable Development & Collective Responsibility Forum honored Ms. Kanchan Naikawadi, Director Indus Health Plus with the Women Initiative of the Year Award in the healthcare sector. The award ceremony was recently concluded at Sustainable Development, Diversity, Inclusion, CSR and Leadership Awards at Taj Vivanta in Bangalore on 25th October 2013.
SDCRF awards recognized and honored initiatives & projects under CSR, Leadership and Diversity & Inclusion projects. Sustainable Development & Collective Responsibility Forum invites thought leaders, philanthropists, social leaders, NGOs, VOs, social entrepreneurs, Funding Agencies, Governments and Media to join together to strategize, brainstorm and take action to build more lucrative and long term sustainable models. Ms. Naikawadi received the award in the leadership category.
On the occasion, Ms. Kanchan Naikawadi said, "I am extremely happy and glad that I have been bestowed with such a prestigious award. Our aim has been to provide quality healthcare at affordable prices to the masses through preventive healthcare checkups. We pride ourselves in facilitating screening, generating reports and providing doctor's consultation in a single day. An innovative initiative as this to generate awareness of practicing prevention for one's health has given us a clear visibility in many regions. We have started our services with Apollo Hospital and Vikram Hospital in Bangalore, also we have started our operations in Gujarat".
Keeping in mind the importance of generating awareness of preventive health check-up and benefits of early detection of any disease, the company conducts regular media activities, publishes news articles, and conducts various conferences. With a large volume of patients, Indus Health has been able to substantially reduce the price of health checkup packages. With life taking non-communicable diseases taking a toll in India, it is the need of the hour to know one's health statistics and follow a healthy schedule. Our endeavor is to reach a larger spectrum of the populace, shares Ms. Naikawadi.
Indus Health Plus business also revolves around CSR, sustainable development and corporate citizenship. This is achieved by a number of seminars and workshops pan India to generate awareness, through its delivery channels. Special citizen camps, police camps, blood donation camps, society checkups are part of CSR activities by Indus. Employees and stakeholders play a pivot role in all of these activities.
Get a Call from Health Advisor