CMO Asia Women Leadership Awards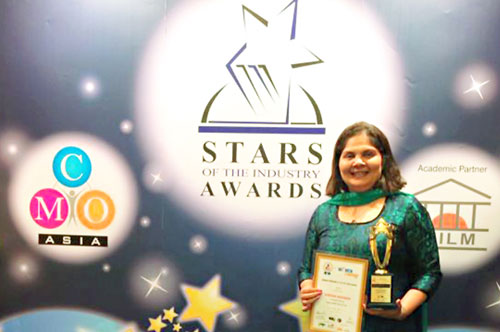 Ms. Kanchan Naikawadi - Director Indus Health Plus (P) Ltd. won the prestigious Female Personality of the Year award during CMO Asia Women Leadership Awards 2013. The award was presented in Singapore today. The felicitation with the award was an initiative to honor Ms. Naikawadi for the strategic and influential role played by her in development of innovative methodologies in the healthcare industry.
The CMO Asia Women Leadership Awards 2013 was created to recognize and appreciate the profound role played by women as leaders, executioners and decision makers, in shaping the future of the region and nation. An international platform as this embodied Ms. Kanchan Naikawadi's qualities of leadership in displaying active, creative and integrated efforts in achieving the best possible results in national and regional development plans. Her contribution to the healthcare industry is commendable and therefore was recognized by the jury members of the award ceremony.
Since inception, Indus has made rapid strides and till date, about 4lakh families have benefitted from timely health check-ups facilitated by it. Ms. Kanchan says, 'we pride ourselves in facilitating screening, generating reports and providing the doctor's consultation in a single day. An innovative initiative as this to generate awareness of practicing prevention for one's health has given us a clear visibility in many regions. I am thankful to CMO Asia for recognizing the work done. We are looking at spreading 'Prevention is better than cure' amongst one and all.' Starting operations from Pune, the company has spread wings across 32 cities and is present in 63 test-centers throughout India.
Indus has been expanding its network of delivery centers across the country. To ensure the best of services, it has tied up with healthcare giants like Sahayadri, Apollo, Wockhardt, Religare, Columbia Asia, Sterling Hospital and NM Medical to name a few.
Get a Call from Health Advisor