Like all other cancers, there may not be symptoms in the early stages of cervical cancer.
As the cancer advances, indications begin to appear.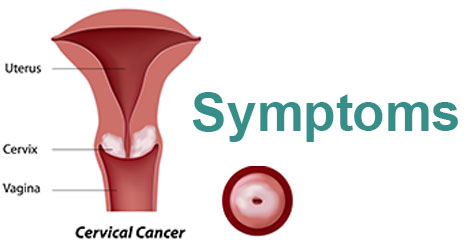 Most common symptom of cervical cancer is unusual vaginal bleeding

Bleeding between periods
After or during sexual intercourse
At any time if the woman is past menopause

Vaginal discharge that smells unpleasant
Discomfort or pain during sex
Advanced Cervical Cancer
When the cancer spreads out of cervix into surrounding tissue and organs, it can elicit a range of other symptoms, including,
blood in your urine
constipation
loss of bladder control
bone pain
swelling of one leg
severe pain in side or back caused by swelling in kidneys
changes in bowel and bladder habits
loss of appetite & weight loss
tiredness and lack of energy
Getting routine whole body checkup helps in tracking the health. Such screenings can help in detecting serious conditions like cervical cancer which do not show any sign or symptom until advanced stages. Healthcare providers like Indus Health Plus offer various health checkup packages to cater to the need of the vast majority of the people. For any inquiry, fill the given form and our team will contact you.