Cervical Cancer Statistics
The 2016 cervical cancer statistics are as follows:
Cervical cancer is the 2nd most commonly occurring cancer in Indian women between the age group 15 to 44 years.
453.02 million women of age 15 years and above are at an increased risk of developing cervical cancer.
In India, every year 1,22,844 women are tested positive for cervical cancer and 67,477 women die from it.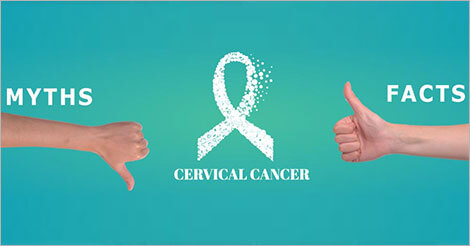 Myths and Facts of Cervical Cancer
Looking at the statistics, it is extremely important that we should have some knowledge about cervical cancer awareness. Apparently, there are many myths/misunderstandings regarding this disease. Let's debunk some myths about cervical cancer with the actual facts.
Myth: Cervical cancer only affects elderly women.
Fact: It is a known fact that cervical cancer can affect any female between the age group 15 to 44 years.
Myth: If you are tested HPV positive, you will definitely have cervical cancer.
Fact: Being HPV positive does not necessarily mean that you will have cervical cancer. Sometimes, HPV infections subside by itself. However, when the HPV infection stays for a long period of time it results in abnormal growth and multiplication of cells, which could develop into cervical cancer.
Myth: Pap smear test can help in the diagnosis of other gynecological cancers, example: ovarian cancer.
Fact: No, the cervical Pap Smear Test does not test for other gynecological cancers.
Myth: A Pap test is enough for protecting women against cervical cancer.
Fact: No, just a Pap test is not enough to protect women against cervical cancer. For any women age 30 and older, an HPV test along with a Pap smear test increases chances of its diagnosis.
Myth: If you are tested positive for HPV, then you would experience warning signs and symptoms.
Fact: It is not necessary that women will experience warning signs and symptoms of cervical cancer. Cervical cancer might not show any signs and symptoms till an abnormal cell growth happen; hence regular checkup screening with Pap and HPV testing is of utmost importance in women that are 30 or older.
Myth: Cervical cancer is fatal.
Fact: Cervical cancer can be cured if detected and treated at an early stage by a regular health checkup.
Myth: Cervical cancer is contagious.
Fact: HPV infection is highly contagious if spread by sexual contact. The cancer cells themselves can't be spread from one person to another.
Cervical Cancer Prevention
Now that we have read through the cervical facts, let's understand how we can prevent this dreadful and misunderstood disease.
Cervical cancer prevention can be done by:
Early Detection: Get a Pap smear test done in a regular checkup.
Use protection if you are sexually active.
Immunization: Get vaccination against HPV. The HPV vaccine is now readily available.
Get rid/avoid all the factors that contribute to the risk of cervical cancer for example: quit/avoid smoking.
To know your complete health status you need a comprehensive health checkup by Indus Health Plus, the preventive checkup specialist.