Who doesn't love snacking? Sure everyone does. And we are also aware that such stuff is unhealthy and rocket high in calories.
Here is a faceoff with how many calories each one of these yummy snacks exactly has?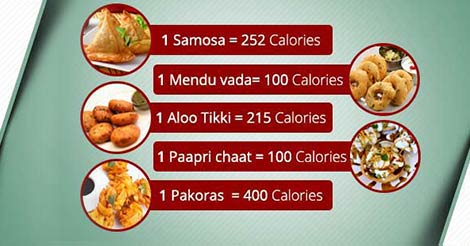 Samosa -
The king of Indian snacks, our dear little samosa is a deep fried triangular thing made of refined flour and a mixture of boiled potatoes and spices as a filling.
The only healthy way to eat samosas is to steam or bake it instead of frying. Also, instead of using maida, normal flour can be used.
Calorie information: 1 standard piece of deep fried samosa has whooping 252 calories.
Chivda -
It is a typical Maharashtrian snack, a mixture of dried peanuts, puffed rice, chickpea, deep lentil and a host of other ingredients. The only healthy way to eat chivda is to dry roast rather than deep fry its various components. Also, it is better to make it at home rather than opting for the one available in market as they are usually fried.
Calorie information: A small bowl of chivda has 201 calories.
Pakoras -
These are deep fried fritters made of various vegetables dipped in a batter of chick pea flour along with some condiments. People savour these with various tangy and spicy chutneys all across the country. Again, the healthier way to eat them is to either grill or bake them.
Calorie information: 1 piece of standard pakora has 75 calories. A plateful may account for 300-400 calories in one go.
Murukku -
Commonly known as chakli, murukku is a crispy snack eaten with evening tea in several Indian households. It is made of urad dal, rice flour and several other spices. Circular coils through a piping bag are made in hot oil, which are then deep fried until golden brown. Since, these would not taste same when baked or steamed, so indulging in them only once a while is recommended.
Calorie information: 1 pc of chakli has 150 calories.
Mendu vada -
A staple in southern regions of India, mendu vada is traditionally served with sambhar and coconut chutney. It is a doughnut shaped deep fried dumpling prepared with a mixture of lentils and spices. Instead of frying, baking or steaming would be a healthier way to eat it.
Calorie information: 1 pc of mendu vada has 100 calories.
Aloo Tikki -
This extremely popular north Indian snack is made with a mixture of boiled and mashed potatoes, green coriander, green chilli, garam masala and other spices. Instead of shallow frying in a pool of oil, aloo tikkis can be made crisp by putting very little oil in a non stick pan and letting them to simmer in the pan for a long time. Baking is another option.
Calorie information: 1 piece of aloo tikki has 275 calories.
Paapri chaat -
It is a combination of deep fried crisp flour pooris, topped with various dry spices, boiled channa, coriander, onions, green chillies, tomatoes, boiled potatoes and several other things.
Calorie information: 1 plate of paapri chaat (6 pcs) has 700 calories.
Eating healthy is extremely important. Junk food adds to excess calories and fat content, increasing the risk of lifestyle diseases, which may lead to fatal conditions such as heart ailments, diabetes, cancers, high blood pressure and several others of the kind.
Along with this, keep a tab on yours and your family's health status by regular preventive health checkups to avoid unpleasant surprises or medical emergencies.
Your favorite snacks contain loads of calories and while calories are good for health, we cannot have in them in excess. It is crucial that we keep a track on our diet and eventually our health. Doctors recommend having a preventive health checkup to be aware about any hidden health problems. You may opt for a fitness checkup by Indus Health Plus. Inculcate health awareness in kids from young age; an adolescent check up package can be a part of birthday gifts of your teenaged kids. Know more about it by filling out the form below.