Cancer is one of the leading causes of deaths in India. According to WHO, India has about 2.5 million cancer patients and 1 million new cases gets added every year with chances of the disease rising five-fold by 2025.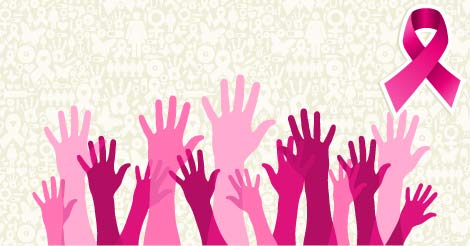 About one lakh new breast cancer cases are diagnosed in the country every year and 52,000 succumb to it primarily due to lack of awareness and screening. WHO report says that 65 % people in India are diagnosed only when they are in stage III or IV, which is an advanced stage of the disease. The drastic age shift is also a cause of concern as more women between the ages of 20- 30 now are diagnosed with breast cancer.
Cancer Symptomless in Early Stages
Early breast cancer usually does not show symptoms. With eminent cancer endemic looming over India, experts believe that at Stage 1 the cancer is curable and at Stage 2 it is manageable. However due to poor utilization and lack of awareness of preventive healthcare most patients do not undergo relevant tests till the symptoms began to appear prominently. By then stage 3 and 4 begins making the disease mostly incurable.
According to WHO, at least one-third of all cancer cases are preventable as prevention offers the most cost-effective long-term strategy for controlling cancer. Treating cancer is a long process that leaves families and patients strained financially and emotionally. Chemotherapy and medicines do not come cheap, and it's not easy to watch a family or friend sinking.
Cancer is best prevented than treated; focus should be on healthy lifestyle and preventive healthcare checkup.
While a number of people are genetically predisposed to have abnormal cell growth resulting in cancer, a combination of unhealthy lifestyle, stress, and poor dietary habits is the harbinger of cancer.
Abnormality Reports Say it All
An abnormality report by Indus Health Plus seconds this thought. In the report it has been observed that cancer risk is increasing in women and especially due to lifestyle changes. The risk of cancer is increasing between the age group of 25- 30. High consumption of oil, ghee and butter is increasing obesity which increases the risk of breast cancer. Amongst all, 58% cases were from this age group while 30% cases were from the age group of 40-50 and 12% from 50- 60 years.
Key Findings from the Report City Wise
Mumbai: An alarming 52% of all cancer cases are below 50 years of age. There has been a steep rise in the number of women under 30 who have been detected with breast cancer. Increased numbers in obesity too has increased breast cancer detections. With 65% of women detected as cancer patients, almost more than 50% of those were working ladies. Obesity, stress, unhealthy lifestyle show a straight connection to rising number of breast cancer detection.
Delhi: Evident rise in breast cancer detection with almost 28% increase in cases compared to 2012. Increasing stress levels has also added to the rising breast cancer detections. Close to 57% of those in the age bracket of 25-45 were detected with breast cancer, majority amongst these were those with poor lifestyle and inadequate exercise and sheer negligence. Delhi being a capital of food lovers is evidently high in numbers, this time especially amongst women. They also consume high amount of oil/ghee/butter in various cooked eatables. This has evidently increased the numbers of obesity, hypertension therefore giving a rise in the number of breast cancer
Bangalore: About 54% of women suffering from breast cancer are in the age bracket of 25-40 years With change in lifes tyle and high intake of carbohydrates and fat, there has been an increase of 28% obesity cases amongst women compared to last year. 35% of population in age group of 20-40 and rest from 40-50 yrs age were obese, that does lead to be a major risk factor for breast cancer. Today Bangalore stands with maximum cases amongst all cities in India for breast cancer Women had higher detections with increase of 23% in hypertension. Many of the detections amongst women were a victim to late marriage, no breast feeding, late menopause and change in lifestyle. 70% of these women were from the working lot
Pune: Its quiet evident that even within Maharashtra, the numbers of cases in urban cities like Pune are on a rise due to huge shift in lifestyle changes. Not only is the sonomamography detections higher, but also the percentage increase in hypertension and obesity is high that that clearly indicated the increase in the risk factors for breast cancer in urban areas.
(The findings are based on number of people who underwent preventive healthcare checkups).
Breast Cancer is Indeed Preventable!
Breast cancer is dreadful but also preventable, adopting simple yet effective preventive healthcare steps will ensure that remain healthy for the effects of a sedentary lifestyle.
By following simple steps as those mentioned below will help you stay a step ahead of breast cancer,
Prevention starts at detection, have annual complete body checkup scheduled with cancer screening
Women should make sonomamography regular check up routine
These tests are not as expensive as you presume; use a reliable preventive healthcare service provider and using preventive healthcare service helps you avail tax benefits, so let money be least of your worries
Women are the best judge of their body ,examine your breast and try to look for abnormal growth or discharge
Maintain a healthy body mass index , obesity is a harbinger of many diseases
Resort to a healthy diet with fresh fruits, vegetables and pulses. Use little to no oil in cooking and drink at least 8 glasses of water, detoxify your system as often as you can
Tobacco and alcohol usage have been a leading cause of cancer amongst many. Cut down on smoking completely, and curb your alcohol intake to bare minimum (Once glass of wine a week).
Reduce your stress level by yoga, music, or pursuing a new hobby
Due to lifestyle changes and many other factors the risk of breast cancer in the women of the modern world has increased drastically. Hence, for maintaining the health and tracking its status, regular complete body checkup is necessary. These screenings evaluate potential dangers and infections. Indus Health Plus offers various health checkup packages and gives a detailed analysis of your health status. If you have any query about health check-ups, do fill the query form and we will get back to you.