Cancer is the change in DNA of cell which causes it to divide and multiply at an abrupt rate. This abnormal growth form masses known as tumor. If this growth happens in bladder then it is bladder cancer. The key to survival is bladder cancer diagnosis at an early stage.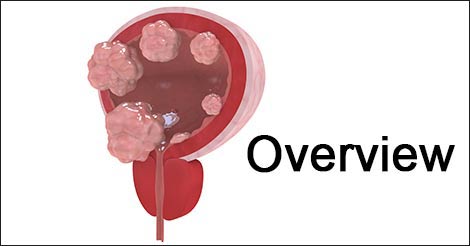 This article guides you towards bladder cancer early detection, causes, symptoms, diagnosis, types, stages and treatment.
Bladder Cancer Causes and Symptoms
There are many factors that are identified and linked with the cancer but it is unknown what actually causes this cancer. Some risk factors of cancer are:
Bladder anomalies from birth
Serious bladder infections
Therapies such as Chemotherapy and radiation therapy
History of cancer
Exposure to arylamine, which is a chemical used mainly in rubber, printing and textile industry.
Smoking
Low Fluid intake
Bladder Cancer Early Symptoms
Blood in urine: In most of the cases blood in the urine is first sign of this cancer and is also known as haematuria. Haematuria in the initial stage can be often painless.
Feeling pain while urinating.
An urge to urinate frequently.
Bladder Cancer Diagnosis
With proper bladder cancer awareness the disease can be diagnosed at an early stage thereby, saving the patient from any bladder cancer complications which might get worsen if diagnosed at a later stage.
These are the bladder cancer test often used to identify the disease.
Physical examination:

A routine examination to check general functioning of body.

Vaginal and rectal exam

Urinalysis:

A test to examine urine's color and its content such as protein, RBC (Red blood cells), WBC (White blood cells) and sugar.

Urine Cytology:

Examine urine to check for cancerous cells.

Cystoscopy:

A procedure which allows your doctor to examine your bladder with a telescope and check for abnormal areas.
Bladder Cancer Types
Bladder Cancer Stages
Tests are conducted to find out the status of this cancer. The test show whether the cancer has spread throughout the bladder or it also has spread to the other parts of body. These tests are useful for staging of cancer. Following are the stages of cancer:
Stage 0
Stage I
Stage II
Stage III
Stage IV
Bladder Cancer Treatment
The treatment of this cancer depends on tumor's stage which is based on the fact that how deep has it grown into bladder and whether it has spread to any other organs.
Surgery
Intravesical therapy
Chemotherapy
Radiation therapy
Even after successful treatment a patient may come face to face with some bladder cancer risk factors such as depression, sexual problems, and urinary diversion. Also the cancer may erupt again, so it is always advisable to have regular checkups.
Understanding bladder cancer is essential to avoid everything that can possibly cause it. A precautionary health checkup like full body check up is a quick and easy way to be aware of the current health status; it also makes you aware of the future health complications. With this, you can start the necessary treatment for it before it gets worse. Do you wish to know more about bladder cancer? Fill up the below query form and share your queries with us, our expert will get in touch with you.