ASSOCHAM Gold Award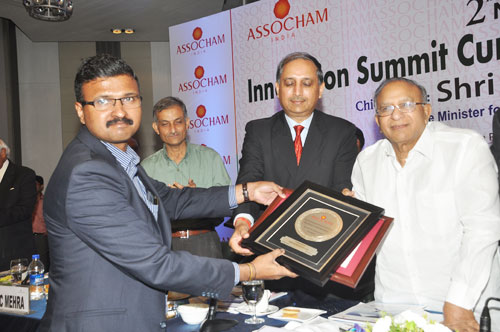 New Delhi, 9th July 2013: Indus Health Plus has been conferred with the 'ASSOCHAM Gold Award in the Social Development Category' during the 2nd National Innovation Summit cum Awards 2013. Mr. Harish Pillai - Chief Operating Officer, Indus Health Plus received the award from Hon'ble Minister for Science, Technology and Earth Sciences Shri S. Jaipal Reddy during the function in Hotel Le Meridian for its innovative work and service in the social development category.
Mr. Harish Pillai, COO - Indus Health Plus shared, ' I am extremely delighted with this highly prestigious award. I would like to thank from the bottom of my heart on the behalf of Indus family to the esteemed jury who chose Indus Health Plus for honoring with award. Indus has always been persistent and consistent in working innovatively to address the needs of the society and various health concerns with latest technology driven delivery partners. A recognition as this would surely take us further ahead and we would continue serving the society with innovative health solutions in our category.'
National Innovation Summit cum Awards as organized by Assocham which is widely known as the highest body of the Chambers of Commerce of India, providing a forum for dialogue between business and government. This was a perfect platform to have got recognized during such a prestigious event.
Indus Health Plus (P) Ltd. was incorporated in 2000 as first of its kind in the preventive healthcare sector. An ISO 9001:2015 certified company; Indus Health Plus is determined to live up to its motto of making quality healthcare 'Available, Accessible and Affordable' each and every day. Today Indus has its delivery partners in 9 states, 32 cities and across close to 60 centers. This has made Indus outreach to more than 80 lakh people. More than 3.70 lakh people have availed preventive health checkups across the country, so far. Indus has done huge numbers of CT technology based checkups in a single day through its delivery partners consistently for the past 7 years. Successful tie-ups with state of the art hospitals, corporate and charitable trusts enables Indus to ensure the best of healthcare facilities for clients in both preventive and curative measures, across the country.
Get a Call from Health Advisor